9 Best Things to Do in Manuel Antonio, Costa Rica in 2022 (Stay, Play, Eat)
Read on for all the details of the best things to do in Manuel Antonio, Costa Rica!
Manuel Antonio is a gooooorgeous beach town on the Pacific coast of Costa Rica. We spent half of our trip in Manuel Antonio (the other half was in La Fortuna) and we had several locals in La Fortuna tell us that Manuel Antonio was their favorite beach in Costa Rica.
We have to agree – there were tons of fun things to do in Manuel Antonio and the beaches were stunning!
Manuel Antonio is interesting because it is the name of the city, the national park, and a beach. Manuel Antonio National Park is very popular and is known for having an abundance of wildlife. Of course, you'll see a lot of that wildlife outside the national park, in the surrounding city and beaches, as well.
Our time there was a mash up of a relaxing tropical vacation and a rainforest retreat merged together. Here are our favorite things to do in Manuel Antonio, plus the best places to stay and eat!
This post contains affiliate links or refer a friend links. When you buy through these links, I may earn a bonus at no additional cost to you.
Where to Stay in Manuel Antonio
One thing to note about staying in the Manuel Antonio area is that due to the nature of the landscape, there are not many properties that are beachfront. Manuel Antonio is on a large hill – which makes for beautiful cliff views over the beach and ocean, but few areas where beachfront properties could be built.
From many hotels and resorts, it is a 10-15 minute walk to the beach (or a 2-5 minute drive)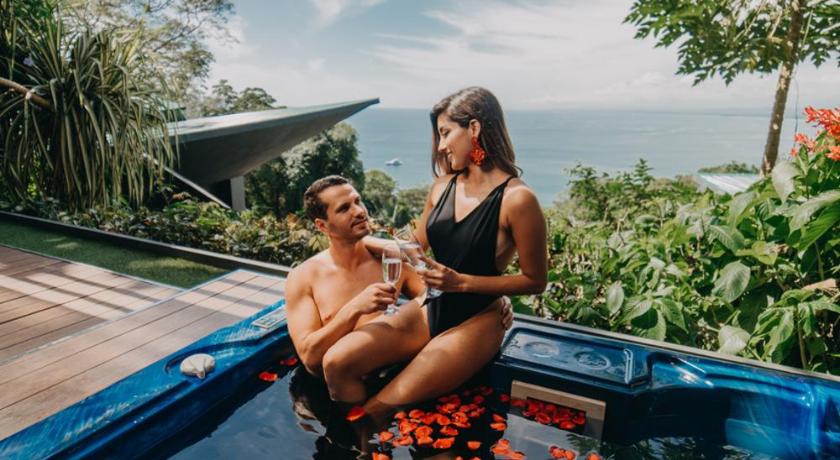 Makanda By the Sea Hotel (Adults Only) is a drop dead gorgeous, luxury hotel in Manuel Antonio. Every room at Makanda by the Sea is a large and spacious suite with between 800-1600 square feet.
Enjoy the infinity pool overlooking the ocean, the pool near the poolside bar, or the incredible grounds and terraces. This resort also has a private beach area, an on-site restaurant, a spa and wellness center, and fitness center (which is rare for Costa Rica).
The Si Como No Resort & Wildlife Preserve is one of the best hotels to stay at in Manuel Antonio for a lot of fun activities. The location is up on the hills, so you get lush jungle vegetation and wildlife all throughout the resort, with incredible views overlooking the ocean.
Amenities at this resort are impressive – there is a gorgeous pool, plus a waterslide, swim-up bar, and hot tub. All the rooms are very well-designed and spacious, and each room has a private balcony with views overlooking the grounds and sea.
The Jungle Beach Lodge is a great hotel within an easy, relatively flat 5 minute walk to the beach, and a short walk to Manuel Antonio National Park. This hotel is really built *within* the jungle and you'll feel like you're right in the middle of the rainforest the moment you step out of your room.
The hotel has a pool area, bar, and on-site restaurant, and the rooms are clean and comfortable. There are a variety of room sizes, and many good options for families or even larger groups.
Vacation Rentals in Manuel Antonio
➡️Ocean View Home with Pool: This light and airy house has a distinctly beachy feel. It's nestled in the foliage of the rainforest and offers beautiful views over the sea, plus a private pool. You can walk to several restaurants, grocery stores, and coffee shops nearby.
➡️Casa Mirador Home With 3 Panoramic Decks: This beautifully designed home has gorgeous views over the ocean from every window and the three terraces! All sorts of animals are in the rainforest outside the property, which is a relaxing oasis in the middle of Manuel Antonio.
➡️The World Famous Airplane Cockpit or Fuselage: For a really fun, bucket list experience, you can stay in a 727 Boeing Fuselage Home – a refurbished 1965 Boeing 727 frame that is converted into a little home in the jungle, or the Cockpit Cottage that is 100 meters away.
Both are accessible only by a hanging suspension bridge in the forest. These unique accommodations have been featured on many TV shows and magazines as bucket list accommodations, and offer an epic lodging experience in the jungle with beautiful ocean views.
When staying in either of these places, you also have access to all the pools and amenities of Costa Verde resort that the plane is on.
>>Check out my dedicated post on Best Hotels in Manuel Antonio for the best hotels and resorts in a variety of categories!
9 Best Things to Do in Manuel Antonio
Okay, let's get into the absolute best things to do in Manuel Antonio, Costa Rica!
1. Hang Out On the Beach
The most popular public beach is Playa Espadilla – this beach was very close to our hotel and we spent a lot of time here. Playa Biesanz, is also in Manuel Antonio and a nice beach. The beaches inside Manuel Antonio National Park are also popular, but only available through the national park – we'll talk about those beaches in #5, below.
Playa Espadilla has different amenities and activities that you can enjoy, like surfing, parasailing, and different food and drink vendors.
With some of the best beaches in Costa Rica, spending time on the sand is for sure a must do activity in Manuel Antonio!
2. Surfing and Surf Lessons
Surfing is a great activity to do in Manuel Antonio! Surf boards were available to rent on the beach for $10/hour or $20/day. If you are a newbie to surfing, you can also take some lessons to learn the basics and the technique!
👉Book your Manuel Antonio surfing lesson here!👈
3. Parasailing
Going parasailing is certainly not something you can only do in Costa Rica, but the way that we launched was unique and very fun, and one of the most exhilarating things to do in Manuel Antonio!
What made this particularly cool is we did a running beach launch to start parasailing – they hooked us up to the parasail right on the beach, had the ropes running out to the boat in the water, and then we started running into the water as the boat pulled us up in the air.
It was about a 15 minute ride, which is slightly longer than most parasailing tours. When the ride was over, we landed gently in the water, and the workers came out in a jet ski, unhooked us, and we rode back into shore on the jet ski.
The whole activity was exhilarating, and my family members who had done parasailing before said that the running beach start was way more exciting than starting off the back of a boat (which is the more common way to start parasailing).
Because of the novelty of the launch, definitely consider adding this to your list of things to do in Manuel Antonio!
👉Book this parasailing experiences here!👈
4. Snorkeling Sailing Tour
Snorkeling sailing tours are such a relaxing way to enjoy an afternoon in Manuel Antonio! As you sail on a catamaran through the coastal waters, you can enjoy a fresh perspective of the Costa Rican jungle, and watch for marine wildlife like tropical fish, sea turtles, and dolphins.
When the boat anchors in the ocean, you can snorkle and swim in the waters with the tropical fish, or even just going down the slide off the boat! Finish off this excursion with a freshly prepared lunch on board and unlimited soft and alcoholic drinks.
You can watch the scenery and look for marine wildlife as you sail along, eat a freshly cooked hot lunch, and then cool off by snorkeling, or even just going down the slide off the boat! It's both a relaxing and a exhilarating thing to do in Manuel Antonio, and one of the best activities if you want some snorkeling time.
👉Book this snorkeling sail tour here👈
#5 Best Things to Do in Manuel Antonio: Go On a Night Hike
While you might see a lot of animals by day, there are a whole host of nocturnal animals to see by night! On a night tour, you get to see animals such as tropical snakes, vibrant colored frogs and toads, as well as sloths or other larger animals.
This particular tour is at a nature preserve right next to Manuel Antonio National Park. You'll hike with your guide through the preserve, looking through a high definition telescope to get good views of the animals that you may encounter. It's a totally different experience doing a night time animal tour!
Tip: Don't forget your closed toe shoes – they are required!
👉Book this Manuel Antonio night hike here👈
6. Explore Manuel Antonio National Park
This is the most famous thing to do in Manuel Antonio and is known for having a lot of wildlife to see. I have a lot to say about visiting Manuel Antonio National Park, so buckle up!
Parking
The parking situation is honestly confusing and aggressive. There is no official parking lot or area for the park, you have to buy parking from one of the many aggressive and bold parking lot "owners" that will try and attract you into their lot and convince you to hire their "official" guides.
These parking lot guys will sometimes even stand in the streets, with official looking shirts and whistles, and look a lot like traffic control people. Sometimes they will literally stand in front of you and stop your car to try to get you to park in their lot. All of these parking places will try to sell you their tour guides. They look official, but are not official tour guides at all.
Every one of these parking lot places say they are the last parking before you reach the entrance for Manuel Antonio and make it sound like you can't go past them (you can, up until you are actually at the gate). This happened like 5-6 times.
The problem is you don't actually know when the last parking lot is. Certainly, you can just park somewhere and walk up, but some of the parking places are pretty far away. Watch your maps and navigation – I would try to park within the last 200 or so meters before the national park entrance.
Tickets
You can only buy tickets for Manuel Antonio online ahead of time. Your passport number is required for registry at the entrance of the park.
Hours: 7am-4pm, closed Tuesdays
Cost: $18.08 – purchase here
Guides
A lot of people choose to go with a guide around the National Park – they can tell you a lot about the history of the forest and the animals that live in it, they are experts at noticing and pointing out all types of animals, and they all have high definition telescopes so you can get really good views of the animals. Generally you will see animals like birds, frogs, snakes, interesting insects, monkeys, sloths, coati, and more.
I will note that when monkeys or sloths were visible, there were usually people stopping and watching them. So if you don't go with a guide, pay attention if there's a group of people looking at something and you may see a sloth!
You have a few options for guided tours:
You can book a guided tour that also includes transportation to/from your hotel, plus entrance fees to the park. This is a great option if you want someone else to handle all the logistics and avoid the whole parking situation! Book this all-inclusive Manuel Antonio tour here.
Or you can book a tour that does not include transportation, which allows you to spend more time at the beach (or continuing to explore the park further) after the guided tour portion ends. Book this Manuel Antonio tour here
Food
No food is currently allowed to be brought into Manuel Antonio due to environmental concerns, but there is one small restaurant to buy food inside the park.
However, be very aware because the monkeys are ON THE PROWL by the restaurant. Stay alert and keep your food by you. If you look distracted, monkeys will notice and grab the food from right beside you.
We actually saw this happen twice – each time, someone was sitting down eating, but a little distracted, or even just had their food a little off to their side, by their elbow. The monkeys scampered over and quick as a flash grabbed the bread or cake right next to the person and jumped up onto a tree.
I'm not going to lie, it was really entertaining to watch, and one of the funniest things to do in Manuel Antonio!
Beaches
The beaches in Manuel Antonio National Park were gorgeous. There are 3 distinct beaches: Playa Manuel Antonio, Playa Espadilla Sur, and Playa Gemelas.
Playa Gemelas was much farther into the jungle, whereas Manuel Antonio beach was the most obvious and easily accessible beach. This is the beach we stopped at, and it was incredibly gorgeous.
I wouldn't say the beach was crazy crowded, but there were quite a few people there. What we didn't realize until almost the end of our day is that if you go just a little bit farther you can get to Espadilla Sur beach, which only had a handful of people on it.
We were excited to walk around Cathedral Point (the #5 Punta Catedral path on the map above), but it actually was fairly meh. There were a ton of stairs and only a couple of viewpoints out to the sea – most of the time you were just in the jungle again.
I mean, the jungle is super cool, but by that point we wanted either to be on the beach, or to have views of the sea the entire time. I will say that, unsurprisingly, there were way less people here than on the paths closer to the entrance.
From Espadilla Sur beach, there is a boardwalk path (#2 on the map above) that takes you back to the park entrance and out. I really liked that part of the park, as it was through the mangroves and unique from anything we had walked through in Costa Rica thus far.
Overall, Manuel Antonio National Park is one of the best things to do in Manuel Antonio, particulalry for wildlife sightings and beautiful beaches!
7. Zipline and Rappel Through the Jungle
Ziplining in Costa Rica is practically a necessity 😉 and for sure one of the most exhilarating things to do in Manuel Antonio!
This zipline course near Manuel Antonio is actually a full rainforest adventure course. You'll start by flying down 10 zipline cables through the rainforest canopy. Then, you'll do a rappel and a Tarzan swing in the jungle. The tarzan swing was a really big hit with our group!
The guides are really fun and chill, and you might also see some animals as you soar through the rainforest canopy! Included in this excursion is round trip transportation from your hotel and lunch afterwards.
👉Book this zipline adventure here👈
8. Go Horseback Riding on the Beach
This beach horseback riding experience is magical for anyone, no matter your horse riding experience level.
First, you are outfitted with a horse to match your temperament and riding experience level – all the horses are well-looked after and well-trained.
After a lesson about horseback riding, you start off through the rainforest and down to a secluded beach. Here you can ride the horses along the sand and the waves, with the option to canter or trot along the beach!
The guides on this excursion are really friendly, personable, and help you feel at ease. Riding nice horses on a beautiful Costa Rican beach is for sure one of the most amazing things to do during your stay in Manuel Antonio!
👉Book this beach horseback riding experience here👈
9. Eat Some Amazing Food
All right, time for some restaurant recommendations! One of the very best things to do in Manuel Antonio, or really on any vacation, is eat!
We ate so much delicious food in Manuel Antonio – I don't think I ate one thing that wasn't really fantastic. The food options here were quite a bit different from the options in La Fortuna. The focus here was, unsurprisingly, much more on seafood, and I didn't see casado, or rice and beans featured prominently like in La Fortuna.
Read More: What to Eat in La Fortuna + Best Restaurants
Like in La Fortuna, batidos (smoothies) were still ubiquitous in Manuel Antonio, THANK GOODNESS.
Every restaurant in Costa Rica is open air – which we loved! A lot of the restaurants along Manuel Antonio had views out over the ocean.
Here are our favorite places to eat in Manuel Antonio:
The Falafel Bar
This restaurant had such a chill vibe – the benches had cushions and backs and the table was low – it almost felt like you were eating dinner on your friend's back deck, sitting around a coffee table and hanging out. It was loungey and homey.
The food here was also top notch – they served plates such as kebabs, shawarma, and falafel. The real star of this restaurant honestly was the salad bar. Every entrée was served with an open spot to fill with whatever veggies you want at the salad bar.
I don't know if I've ever seen a fresher, more vibrant display of vegetables – and they tasted super fresh and delicious. Highly recommend this spot.
Emilio's Cafe
We came to Emilio's specifically for the desserts, but then were blown away by how delicious the entrees were. The fish in particular was just so good – tender and flavorful and not fishy at all – but literally every dish that we ordered was incredible.
But the desserts — ooooooh the desserts! They were to DIE for. They had a big case full of different cakes, cheesecakes, and brownies. We got a bunch to share at our table, and then got another few to bring home with us, they were just that good. Our favorites were the passionfruit cheesecake and the almond cheesecake.
Note that Emilio's is closed on Tuesdays.
La Baguette
This little breakfat place is right next to El Avion restaurant. They offer many coffee options, as well as savory and sweet breakfast pastries – our personal favorites were the ham and cheese croissant and pain au chocolat.
Hours: 7am-2pm
El Avion
This restaurant has the coolest dining room. The restaurant is built around an old airplane, and you can actually go in and up into the cockpit! Most of the tables are situated behind the airplane and look out over the ocean. There were some incredible sunset views! You'll want to come early if you want a table right by the railing with the best vantage point.
The mahi mahi here was a dream, and the virgin pina colada was the absolute best drink I had in Manuel Antonio.
Parasailing Company
Okay, this isn't a restaurant, but I think it's worth mentioning. On Playa Espadilla, one of the main public beaches in Manuel Antonio, there are not a lot of food vendors – in fact, the only food available on the beach for purchase are coconuts to drink.
So we were pleasantly surprised when the parasailing company we booked with also gave us free parking at the beach, beach chairs and an umbrella to use all day, and beachside service. The food was expensive, but we were very happy to be able to just sit on the beach all day long and not have to leave for food.
Everything we ate was really high quality, but I have to give a particular shout out to the smoothies – the mango smoothie tasted like you were drinking a straight up mango and was my mom's favorite smoothie in Manuel Antonio.
👉Check out this parasailing company here!👈
Beach Travel Essentials for Manuel Antonio
These are a few of the things I brought and were very helpful for Manuel Antonio!
Sandals: These sandals have been the absolute best travel sandals for any hot weather vacation. They have arch support, are cushy, and even felt amazing straight out of the box. I wouldn't wear these on a beach day, but they're perfect for days when you're walking around.

Tropical Dresses: These dresses are light and breezy, come in a variety of colors and patterns, and perfect for a Costa Rican vacation – shop here and here.

Sports Bras: These bras are supportive and super comfy. Love them.

Lightweight Shorts: These athletic shorts are just so good. They're not too tight, not too loose. They have zip pockets and a mesh liner, and feel so comfortable!

Straw Hat: I love this compressable straw hat. It's waterproof, great for blocking the sun, and looks fantastic in photos. I bring this hat with me everywhere!

Rattan Earrings: A beachy location calls for some fun earrings. I love this set of circle rattan earrings and this pair of tassel rattan earrings.

Beachy Coverup: This lightweight kimono works really well as a beach coverup!

Microfiber Towels: The hotels we stayed at in Costa Rica did not provide beach or pool towels, so we these microfiber towels – they pack down super small but are still very absorbant and dry extremely fast.

Sunscreen: I have very sensitive, acne-prone skin, and so I use this facial sunscreen designed to not cause breakouts. I love this one so much that I actually use it every day, whether I'm out in the sun or not! It's lightweight and rubs into my skin smoothly. If you don't need a sunscreen for sensitive skin, then this sunscreen stick is our favorite way to easily apply sunscreen and what we always use for the kids.

Packing cubes: I LOVE using these packing cubes to keep all of my clothes and gear organized in my suitcase (is there anything worse than all your stuff mixed up after one day?)

Power Bank: We love this portable power bank to charge our phones as we spending a long day sightseeing (and using up all our battery on pictures!). This bank can charge our phones at least four times, is affordable, and has a digital display of how much charge is left.
Getting Around Manuel Antonio
Renting a car is far and away the best way to get around Costa Rica. We leveled up and rented a 4-wheel drive vehicle from Avis, which was absolutely the right choice.
Pro Tip: We find that we get the best rates and more availabilty on RentalCars.com

Also, check out my guide to Driving in Costa Rica for everything you need to know about driving, navigating, rental car insurance, and parking in Costa Rica, plus a huge tip for bringing the rental cost down!
Other Important Things to Know About Visiting Costa Rica
➡️Costa Rica uses type A and B plugs. This is the same type as the United States, so if you're traveling from the US, you won't need an adaptor.
➡️Plumbing in Costa Rica (like most of Central and South America), is not set up to handle toilet paper. Instead of flushing, place your toilet paper in the waste basket near the toilet.
➡️Costa Rica's currency are colones. About 650 colones are equal to 1 US dollar. One nice thing is that you can pay with USD in Costa Rica – just be aware that you will generally get change back in colones.
➡️Some people in Costa Rica speak English, though many only speak Spanish. While you can for sure get around without a problem if you don't speak Spanish, knowing a little bit will definitely be helpful!
Don't Forget Travel Insurance
Securing some travel insurance is an important part of prepping for any international trip – you never know when something might happen, and your regular insurance generally won't cover you overseas. Costs for a medical emergency on vacation can add up extremely fast, so it's just better to be safe than sorry. (If covid has taught us anything, it's that you never know what could happen!)

I like booking insurance at Insure My Trip, as they offer a variety of plans with different coverages to choose from, so you can find the right option for you. Plus, they have great customer support if you need help before, during, or after your trip.
👉Check rates at Insure My Trip here!👈
Final Thoughts on Things to Do in Manuel Antonio
Manuel Antonio is a fantastic beach destination in Costa Rica. There are tons of incredible things to do, and the accommodations and food really help to enhance the experience. I hope you have a great time!
Read more:
Pin for later!