An Extremely Detailed Guide to the Cologne Christmas Market [2022]
Considering a visit to the Cologne Christmas market? Read on for descriptions of the different markets, the foods and goods you can find there, where to stay, and other helpful information!
Cologne (or Köln) is the largest city in western Germany, and a cultural and economic hub. The city is known for having some fantastic Christmas markets, and I have to say, the Cologne Christmas markets were probably our favorite of any we visited in our European Christmas market tour. 
And that's no surprise – Germany is known for doing Christmas right. 
Cologne itself was incredibly clean and, while the buildings were more modern and didn't have that old European charm to them, they were also nice looking. The city just felt well-kept and in tip-top shape. 
But the Christmas markets, oh man! They were really, really phenomenally done. Each of the 7 Christmas markets in Cologne had its own theme, which carried into the decorations, the types of goods for sale, the mugs, and even some of the food. Suffice it to say, we were charmed. 
This post may contain affiliate links or refer a friend links. When you buy through these links, I may earn a bonus at no additional cost to you. Thank you so much for your support!
Drinks at the Cologne Christmas Market
But first, let's take a quick minute to talk about drinks – an integral part of experiencing a European Christmas market!
All over the city, you can find drink stands where you can buy gluhwein (hot, mulled wine), non-alcoholic hot cider, or hot chocolate. When you buy your drink, you also pay a small deposit for the cup it is served in. In Cologne, the deposit was usually 3 euro. 
Cologne had some of the best mugs of any of the cities we visited. Each market had their own, unique mug that coordinated with the theme of the market. And within that theme there were a lot of variations. For example, in the Angel Market the mugs had angels on them, but there were five or six different types of mugs with angels doing different things on them. It was awesome!
We collected mugs from all over Europe and brought them home with us (pro tip: when packing, stick each mug in a sock, and then place all the mugs in a carry-on duffel bag, padded with clothes). 
If you are keeping your mug instead of returning it for your deposit back, you can still go up and exchange the dirty one you just drank out of for a clean one (people were really nice when we did this – it seems like this is pretty common).
Otherwise, when you return it you'll get that 3 euro back.
Truly, I found the mugs to be such a delightful part of the Cologne Christmas market – indeed, it was one of my favorite aspects of all the European Christmas markets we visited!
Where to Stay When Visiting the Markets of Cologne
When visiting Cologne at Christmastime, I highly recommend staying in a spot that is central enough to walk to most, if not all, of the markets in the city. It just makes everything so much more convenient!
With that in mind, these are 3 of the best hotels I would recommend staying in Cologne during the Christmas season. Each are great hotels in a central location, perfect for your exploration of the markets!
Travel tip: I would highly recommend booking a hotel as early as possible when planning a visit to the Cologne Christas market, as the best hotels fill up really!
✔️Hotel zur Malzmühle: This budget hotel is clean, comfortable, has a cool, trendy design, and is in an EXCELLENT location right by the Heumarkt and centrally located to all the markets in Cologne.
⭐Rating: 8.4 out of 10 – read reviews here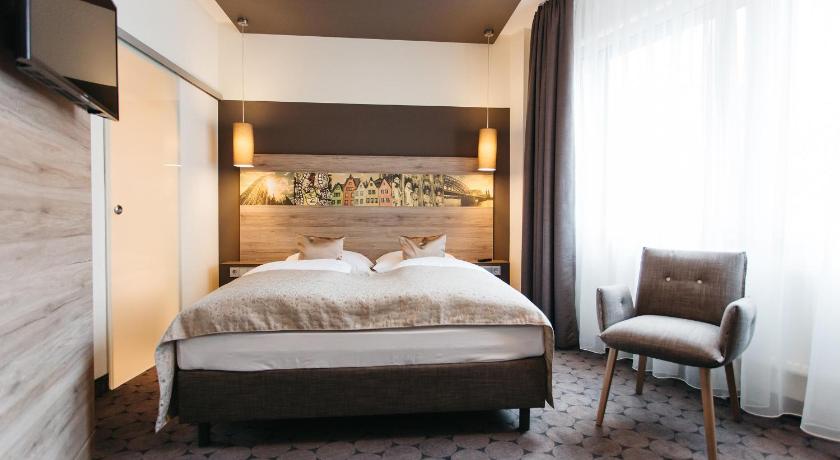 ✔️Hotel Sion: This hotel is located right in the heart of the city, just around the corner from the cathedral (some rooms have a partial view). Rooms are modern and nicely decorated and staff is very helpful.
⭐Rating: 8.1 out of 10 – read reviews here
✔️Excelsior Hotel Ernst am Dom: Literally on the steps of the Cologne Cathedral, this hotel oozes luxury (major heart eyes for those bathrooms!). A fitness center and spa are also available – very unusual for most European hotels.
⭐Rating: 9.1 out of 10 – read reviews here
The 7 Markets that Comprise the Cologne Christmas Markets
 Here's a full breakdown of what each of the Cologne Christmas markets were like, what you can buy there, what foods are available, how much things cost, and all the little extras about why you should go and what to know before you go.
The Dom Market (or Weihnachtsmarkt)
This market was set up just next to the grandiose and towering Cologne cathedral. The stalls in the market were all a distinctive red color, with shooting stars at the top of the stall serving as the stall's nameplate.
A giant, elevated Christmas tree stood proudly in the center of the market, with a blanket of lights extending from the tree over the tops of the stalls. Those lights were pure magic when they were all lit up at night. 
Just under the Christmas tree was a stage decked out in red. Many nights there was a concert being performed on the stage. The night we were there, there was a children's choir singing carols – it was adorable and the songs added a lot to the atmosphere. 
There were a lot of food stalls interspersed with the stalls for goods. The focus of most stalls was on Christmas decorations – including candles, ornaments (wood, glass, or even paper), or other decorations.
There were a few stalls with clothing (scarves, hats, and gloves were most common, but there was another stall with animal slippers), and some specialty shops, such as the stall selling intricate wooden model kits, or a really fun toy stall with lots of colors and moving toys.
The mug here was a cartoon-ish drawing of the market, complete with cathedral, tree, stalls, and people!
One of my favorite things I ate in Cologne Christmas market was muzen! I only saw this at the Dom market and it was delicious. It's a soft, slightly sweet dough that is fried and crispy on the outside, and then rolled in powdered sugar or cinnamon sugar. I'm drooling just thinking about it again…
Just to the southeast of this market, on Am Hof street, you will find a small section Advent Village with a Christmas pyramid! These pyramids are such a traditional staple of German Christmas markets – you must stop by and see it (and grab a drink while you're there!)
Heinzels Wintermärchen (Altmarkt and Heumarkt)
Not far from the Dom Markt was the Altmarkt and the Heumarkt. Technically these were two separate markets/squares, but they were just a stone's throw from each other and created one unified Christmas market: Heinzels Wintermärchen.
Heinzels Wintermärchen (Heinzels Winter Fairytale) had a woodland/gnome theme. The stalls here were wooden and more rustic, with garland lining the tops of the stalls, invoking the feeling of walking through the forest.
At the top of each stall was a gnome, and each gnome was doing something a little different, from sleeping to cooking to rappelling to skiing.  
The market really embraced the woodland theme, too, from bar tables being large logs to a little woodland animal scene set up in one corner. Adding to the rustic feel, one of the market stalls was a blacksmith shop adding to the ambiance with it's sights and sounds – and of course you could watch demonstrations and purchase freshly made wares.
Altmarkt
The Altmarkt section was more focused on homegoods and decorations, with some food and candy stalls for variety. Some examples include specialty shot glasses with glass shapes inside, wooden bowls and cookware, stuffed animals, a variety of candles, bristle brushes, leather purses and belts, cookies, and decorated hanging gingerbread (more meant to be cute and displayed than eaten).
 There was also a cute little Ferris wheel that you could ride for 3 euro per person.
 In the center of the Altmarkt was a fountain and statue. At night, there are sometimes mini-concerts at this statue. One night we heard small brass band playing carols. 
 After enjoying the Altmarkt section, you stroll down a decorated section of street with a few more stalls and a carved nativity until you reach the Heumarkt.
Heumarkt
The Heumarkt was just so delightful! It still had the woodland + greenery + gnome theme, but it also had more of a carnival feel – there was a really cute ice skating rink, a curling rink, and a carousel. 
The Heumarkt had a lot of stalls selling jewelry and clothes (as well as some selling Christmas decor) and plenty of food.
These two markets were fun during the day, but they became absolutely enchanting at night!
The mugs at this market were red, rounded, and had (surprise, surprise) gnomes on them. What made the mug situation even more extra is that there were 15 different types of gnome mugs you could get – each stand in the two markets selling drinks had a different variety with a different gnome highlighted.
There was also a stall at the very south end that had all the different mugs available for sale if you want to be able to see all the options without hunting down every drink stand. We got this one that highlights both the statue in the Altmarkt and the tradition at Carnival for this region where the women kiss a man of their choosing.
Professional Photoshoot
We loved this market so much that we chose it for a holiday themed photoshoot with a professional photographer, and the pictures we got are a perfect holiday wonderland!
When Matthew and I travel to new countries together, we often will book a local photographer for an hour for a photoshoot at a location that feels distinct to that region. We love these high quality photos we've collected of ourselves around the world! This is the Instagram handle of our photographer in Cologne.
Interested in a professional photoshoot? See more examples of shoots we've done in Marrakech and in Aix-en-Provence!
The Angel Market (at Neumarkt)
The theme for this market was angels, with stalls decked out in white and silver, and nods to stars and angels everywhere. There were angels at the tops of many stalls, lit stars hanging from the trees, and even women dressed up as angels walking around (they're very nice – you can take a picture with or of them for free). 
 The mugs at this market were white and had angels on them. Like the Altmarkt, there were a variety of angel mugs to choose from! They make a new style each year, but there are previous year varieties in circulation.
 Speaking of goods, the focus of this market seemed to be mostly on specialty foods and crafts. 
 There were also some really fun foods you could get here that weren't at other markets in the city. For example, you could get a waffle in the shape of the Dom cathedral.
You could also find booths selling speculoos cookies in the shape of the cathedral (speculoos are essentially the same as biscoff cookies – crunchy, cinnamon-y cookies that are delicious!) A package of 10 was 4.50 euro.
Tree Bread (Baumbrot)
Tree bread (Baumbrot) was super interesting, particularly because they were making it right there in the stand while you watched. Basically, it was a huge log of bread that was cooked on a spit over a rotisserie.
Once it got a golden crust, the employee would move the bread out of the flame, and then spin the bread in a vat of batter to add a new coat, and then move it back onto the heat to cook. Once that layer was cooked adequately, she would dip it again, and then back in the heat, and then dip again, etc, etc.
The result was that when you sliced up the bread, you could see all the layers that had been dipped and it looked just like the rings of a tree!
Tree bread was sold in several different forms – in a full ring about 1-2 inches thick, or chopped into small chunks and dipped in chocolate, or in a cone with chocolate drizzled over the top, or even just plain!
(We sampled a bit and it was delicious. I absolutely would've bought one of the cones with chocolate if I hadn't already been so stuffed). 
St. Nicholas Market (at Rudolphplatz) 
The St. Nicholas Market might have been the most adorable of all the Cologne Christmas markets. While Cologne itself doesn't have half-timbered houses, the St. Nicolas market did a good job making up for that, with many of its stalls and decorations being half-timbered, Bavarian-looking structures.
A Santa and reindeer display was on top of one of the large drink stands and there was plenty of red and green. 
The best entrances were on the east end where you could either enter by a lot of cute buildings, or enter the market through a tall, stone archway part of an old gate. The castle vibe by the gate was a fun touch!
The market was smaller in size but had a great variety of offerings, from delicious bratwurst roasting on an open fire (we had one wrapped in bacon- so good!), to paper stars, ornaments, toys, and specialty soaps. In many ways a similar set of offerings as the Dom market, but in a smaller, cuter package. The whole thing exuded such charm!
The mugs at this market were my faaaavorite of all of Cologne. They were these super cute little blue boots (there was also a white boot option) that I just about died over. 
Harbor Market
Located along the banks of the Rhine river, and right next to the Lindt Chocolate Museum/Factory is the little Harbor Market. The theming here is distinctly nautical, with white tent stalls with a pointed top, bringing to mind sails, and flags and helm wheels abounding.  
The theme of the market goods was definitely artisanal crafts. We saw a lot of hand-made, unique gifts in this market, including hand-made stools and wineholders, pictures, art, specialty knives and knobs, toys, Moroccan tagines, and beeswax candles. 
We ate a kartoffel-spiral, which was a spiralized potato fried on an stick, with sweet chili sauce to dip it into – delicious! Overall food offerings tended toward sea food, from fire-roasted salmon, to fish and chips, to oysters.
There was a very large ferris wheel in this market. It was much larger than the one in the Altmarket and brightly lit.
The mugs here were just clear glasses – less exciting and not something we decided to bring home with us.  
This market is a lot smaller than the others mentioned, but it's still worth visiting, especially because when you visit the Harbor Market, you also need to stop in for a visit at the Chocolate Factory/Museum. 
 The Schokoladen Chocolate Museum
The Schokoladen Museum is part museum, part functional mini chocolate factory. The tour starts and ends with a chocolate sample, as you go through a series of rooms that show how cocoa beans are grown and produced. Another room has a lot of fun facts and displays about what types of ingredients are in different types of chocolate, how much they cost, and other little chocolate fun facts. 
The real draw of the museum is the factory shop, where you can walk between 10 different stations doing different parts of the chocolate making process.
There is signage to describe what is happening at each station, and there is actually real chocolate being processed in all of the machines. You get to watch the cocoa beans being pressed and extracted, it mixing with the sugar and milk, it being formed into molds, cooled, broken out of the molds, and packaged up. 
At the end, you can watch a number of chocolate artisans in the process of creating different chocolate creations that need to be hand-made. For example, a chocolate bunny or Santa with different colors of chocolate on it actually has the different colors hand-painted onto the molds. 
You can order a specialty made chocolate bar that is made to order and ready for you in ½ hour. There is also a café on site that specializes in chocolate tortes, soufflés, cakes, hot chocolate (as well as some other, more savory items). 
In the front, there is a gift shop with a large variety of Lindt chocolates. We picked up some Linder ball flavors that you never see in the United States.  Cost to enter the museum is 12.50 euro and I think it is well worth it!
Stadtgarden Market
This market is farther away from the Cologne city center and the other markets. We decided to ride a scooter up here, since it was quite a far walk from the next closest market! 
This market had a much, much different vibe than the rest of the Cologne Christmas markets.
It was really set up as an after-work gathering place to grab drinks with friends – not a family market. There were tons of people here, all in groups or couples, hanging out and drinking gluhwein. The mugs here again were just plain glass.
There were not very many stalls overall, with only a very few of those selling goods, and the rest selling drinks and some foods. Those that were selling goods tended towards more specialty shops, like interesting books and travel gear.
The setting was also unique – the market was set in a park, so you walked among trees, with wood chips or gravel on the ground. 
Between being pretty small and far away from the other markets in the city, I would say this is not a must-see market in Cologne.
Heavenue Market
This market, known as the Gay Market, has a very similar general feel to the Stadtgarden market. There were very few stalls overall, with most of those stalls being devoted to food and especially drinks.  
The theming of this market was on bright, neon decorations. The big Christmas tree was white and covered in flashy ornaments, and even the Heavenue sign as you entered the market was bright and flashy. The mugs were taller, more like large shot glasses, and rainbow colored.
I would say this is the least kid-friendly market, as there were one or two stalls selling very provocative, sexy items.  
Like Stadtgarden, this market was full of the afterwork crowd, with friends coming in together to grab drinks together.
Map of the Cologne Christmas Markets
Dates for the Cologne Christmas Market in 2022
The Christmas markets in Cologne are set to open Monday, November 21, 2022, and close Friday, December 23, 2022.
Opening hours vary between markets, and between weekends/weekdays. Specific opening hours have not yet been announced for 2022. Generally though, hours are between 11 a.m. and 9 p.m. for most markets, 4pm-10pm for Stadtgarden and Heavenue, with extended hours on weekends.
Foods to Eat at the Cologne Christmas Market
The food at the Cologne Christmas market was soooooo gooooooood! I was highly anticipating eating my way through all the food stalls, and that's exactly what we did!
We usually at breakfast at the hotel or picked up something from a nearby bakery, but then the rest of our food for the day was eaten as we wandered around the markets, eating a little bit of this and a little bit of that. It was awesome!
These are many of the foods that you will see at the Cologne Christmas market:
Reibekuchen
A crispy, fried potato cake, similar to a hashbrown. Served with applesauce! These are a staple of Germany Christmas markets, you can't miss it!
Cost: 5-6 euro for 3
Flammekuchen
Grilled bread with crème fraiche, bacon, onions, potatoes. The Germany version was a puffier bread, whereas the French version was a thinner, crispier bread. 
Cost: 5-6 euro
Waffles
(in particular, Dom Waffles)
Cost: 5 euro
Muzen
A soft, slightly sweet dough that is fried and crispy on the outside, and then rolled in powdered sugar or cinnamon sugar.
Cost: 1.50 euro for one
Schupfnudeln
Noodles made of potatoes served with sauerkraut, creme fraiche, and fresh herbs
Cost: 7 euro
Pretzels (Brezels)
You can choose from ones covered in salt, seeds, cheese, or ham!
Cost: 3 euro
Baumbrot
I described this earlier, but it's worth putting in this category as well. Stop at the booth in the Angel Market to see them getting made!
Cost: 3-5 euro
Kartoffel-Spiral (Potato Spiral)
A fried spiraled potato on a stick. It was crispy on the outside and chewy on the inside, and came with a sweet ginger dipping sauce – delicious!
Cost: 4 euro
Flavored Nuts
Choose from a variety of flavored nuts! There were several of these stands throughout the markets in the city.
Cost: 4 euro for 30 oz
Speissbrotchen (Sandwiches)
I was not expecting a lot from these little sandwiches, so they definitely exceeded expectations. The bun was nice and crusty, and the shaved meat inside was tender, juicy, and flavorful.
Cost: 5.5 euro
Bratwurst
You can't go to Germany and not eat some bratwurst! This particular version was bacon-wrapped and was bursting with flavor! I'm not a hot dog girl at all, but I loved this.
Cost: 5 euro
Fire Roasted Salmon
Filets of salmon are tacked onto wooden boards and then roasted over an open flame. We saw this several times around Cologne (including the Harbor Market, no surprise!)
Gluhwein, Kinderpunsch, or Heiss Chocolate
Drink stations are everywhere in the markets! Gluhwein (hot, mulled wine) is very popular, but there are a variety of alcoholic drinks you can order.
If you're not an alcohol drinker, you can order kinderpunsch (hot apple cider) or hot chocolate.
Cost: 3-4 euro, plus the 3 euro deposit for the mug (which you can return for your deposit back when you're done drinking, or keep as a souvenir)
What to Buy at the Cologne Christmas Market
There are a ton of goods to buy at the Cologne Christmas market – this is not a comprehensive list by any means. However, this is a pretty good representative sample of what sort of things are for sale, plus an idea of what they will cost.
Christmas Market Essentials
These are a few of the things I wore or brought with us for our Christmas market tour!
Wool Coat: Like most Christmas markets in Europe, the Cologne Christmas market was chilly – I cozied up with this affordable wool coat.

Pom-Pom Beanie: This beanie was cute and warm and comes in a variety of colors.

White sneakers: Comfy shoes are important – you'll be putting a lot of miles in as you explore the markets. These are my favorite sneakers – they are so soft and cushy!

Green/Black skirt: If you want a fun, festive outfit, this skirt is perfect for the holidays.

Black Tights: These tights are thick and opaque and go well with any winter dress or skirt, or just as another underlayer.

Crossbody Purse: I always bring this cognac crossbody purse with me on trips – I keep it zipped and in front of my body to prevent pickpocketing.

Power Adaptors: Germany uses type C plugs, so if you're coming from the US, you'll need a power adaptor. This set is affordable and comes in a 3-pack – perfect so everyone can charge their devices.

Packing cubes: I LOVE using these packing cubes to keep all of my clothes and gear organized in my suitcase (is there anything worse than all your stuff mixed up after one day?)

Power Bank: Being out sightseeing and taking pictures all day can seriously drain your battery. I love this power bank because it gives us several charges and has a digital screen.

Travel Umbrella: If there's rain in the forecast, this travel umbrella packs down small – easy to stick in a purse or backpack.
Getting Around Cologne
You have a lot of options for getting around Cologne. 
First, there was a hop-on/hop-off sightseeing train that went between 4 of the major markets in the city. The cost for that is 10 euro per person. 
Cologne is also very walkable and it is not too far to walk between most of the markets. The vast majority of the time, we walked.
Scooters
However, when we didn't walk, we took the rental scooters that are found around the city. There are several different brands of scooters, each of which use their own app. We used Tier and Lime. You can download the app ahead of time so that you are ready to go, and the scooters are very easy to rent and use.
Open your app and it will tell you where the closest available scooter is to you. Then scan the QR code on the scooter, and away you go. When you're done, park the scooter almost anywhere (there are some places you aren't allowed to park, the app will tell you if you need to move the scooter a little bit), take a picture of the scooter parked, and you're done! 
This was a really easy and convenient way to get around the city quickly when we needed a break from walking. A 10 minute ride usually cost us about 3 euro per scooter. 
Metro
Cologne also has a good subway system, but we found it easier and more convenient to just walk or scooter around. 
Driving
I would not recommend driving from place to place around the city – that will be a lot of hassle and is not necessary to get around. 
And, of course, there is always Uber! 
Traveling Between Different Cities?
While you can easily take the train between many cities in Europe, for this trip we chose to rent a car and drive between towns (since we were going at a fast pace and wanted to stop in some smaller villages too).
Driving in Europe is straightforward, the roads are well-maintained, and the signage is easy to follow. Plus… can you say autobahn?!
We've rented through Ok Rent a Car, Europcar, and Sixt in western Europe several times and always had good experiences. I'd highly recommend booking your rental car early — we booked in September and got a good rate, but when I checked back in mid-November, the prices had tripled.
👉We have found that we get the best prices and availability and options for rental cars on RentalCars.com – check prices here!
Other Things to Know About Visiting the Cologne Christmas Market
There are no entrance fees to visit the Christmas markets
People in Cologne speak German, of course, but you will find that most people interacting with tourists speak at least some English.
There are some stands that will accept card, but many places will just take cash. There are ATMs around the city, so it's not hard to find a spot to pull out some euros. 
Weekends are very busy, so if you can, visit on a weekday.
Every market had a bathroom. While some were "temporary", they weren't simple porta potties and were in good condition. Some were free, but most encouraged a 50 cent "donation".
Don't Forget Travel Insurance
Securing some travel insurance is an important part of prepping for any international trip – you never know when something might happen, and your regular insurance generally won't cover you overseas. Costs for a medical emergency on vacation can add up extremely fast, so it's just better to be safe than sorry. 

I like booking insurance at Insure My Trip, as they offer a variety of plans with different coverages to choose from, so you can find the right option for you. Plus, they have great customer support if you need help before, during, or after your trip.
👉Check rates at Insure My Trip here!👈
Final Thoughts on The Cologne Christmas Market
Between the delicious foods, the vast variety of goods, and especially, the TOP NOTCH theming of the markets, the Cologne Christmas market was an absolutely delightful winter wonderland to visit.
Read About Other European Christmas Markets Here:
Pin for later!