20 Best and Unique Things to Do in Nice, France in 2023
Looking for the absolute best things to do in Nice, France? I've got you covered! Read on for all my top Nice recommendations.
While Paris has the moniker of "The City of Love", it is far from the only romantic destination in France. Nice is a gorgeous, romantic and underrated city in France.
In addition to its beauty, there so many hidden gems to explore, fantastic experiences to have, memories to make in Nice. It really is a location that should be on everyone's France bucket list.
Nice (pronounced "Neese") is located right on the Mediterranean Sea, in a region of France known as the French Riviera, or the Cote d'Azur. Nice comes in at the 7th largest city in France, and while definitely not a little town, it has a much more laid back and relaxed vibe than larger cities like Paris or even Marseilles.
This post contains affiliate links. When you buy through these links, I may earn a commission at no additional cost to you. Thank you for your support!
Travel Resources!
To help you plan your trip quickly, here's a snapshot of some of the top rated excursions, tours, and hotels in Nice.
---
Top Excursions and Activities in Nice:
Top Hotel Options in Nice
20 Amazing Things to Do in Nice, France
Let's jump right into the list! At the end of the article, I've got several sections of practical tips for visiting Nice, so make sure you read to the end for a lot of helpful tips and information!
1. Food Tour of Nice
Get to know Nice and its cuisine on a whole different level on a fun food tour of Nice, which will introduce you to a whole sampling of some of the best regional food the French Riviera has to offer! Come hungry because you will definitely be eating well, as you sample !
Food tours in new cities are an excellent way to try many new foods (without having to cook!) and learn a lot of little tidbits about the dishes, the region, and the culture. We've really loved all the food tours we've done!
This small group experience takes you around to many different shops and restaurants, where you'll try 20+ dishes and foods, sample locally produced olive oil and wine, and have a great time discovering the food scene and history in Nice.
👉Check availability and rates for this Nice Foodie Tour here
2. Stroll The Promenade Des Anglais
The most famous attraction and jewel of Nice is the Promenade Des Anglais (the English Walkway) – a very wide boardwalk right along the Mediterranean. It extends for miles and has access points down to the beaches (which are beautiful, but rocky).
Along the path you will find people running, walking, biking, roller-blading, and (the greatest of all past times) people watching. And I recommend all of them!
Walking the promenade is one of my favorite things to do in Nice (and just may be my #1 overall favorite thing) – there's just such a great vibe and the views can't be beat.
Along the seaside, there are also numerous restaurants/bars on the beach where you can relax while watching the waves. City-side, there are mainly apartment buildings, but you will also find some restaurants and some of the iconic buildings of Nice, such as the Hotel Negresco.
With serene ocean views on one side and typical French Mediterranean buildings lining the other side of the street, it's a location you can come back every day to enjoy. We walked on it multiple times and it was invigorating every time.
At least once, be sure to walk all the way to the point by Castle Hill – there is a great lookout spot with a picture perfect view of Nice.
You can't come to France and not enjoy some of the best wines in the world! There are over 27,000 wineries scattered all around France, producing over 200 wine varieties!
Of course, you can drink wine just about anywhere in France, but a dedicated wine tasting will take you through several different selections of wine (including red, white, and rosé).
This experience lasts 2 hours and takes place in the back of a wine shop right in Old Town, so it's easy to add into your Nice itinerary. Your expert sommelier will explain the region the wines comes from, notable features, and the production process to grow the grapes and create the wine.
Your host will guide you through the experience of smelling, tasting, and savoring French regional wines, as you sample around 5 red, white, and rosé wines.
This is a lovely and quintessential "French" thing to do when you visit Nice!
👉Check rates and availability for this wine tasting here
4. Place Massena
Situated right by (and almost inside of) the Jardin Albert I is Place Massena. This square is very distinctive, with a checkboard pattern on the ground, bright red buildings around the periphery, and a large fountain.
It's a great photo-op spot and a definite must-see in Nice.
5. La Colline Du Château (Castle Hill)
As you walk east down the Promenade, you will see that it curves up and out towards the sea as it wraps around a hill. This hill — La Colline du Chateau, or Castle Hill — is great for exploring and is a top activity to experience in Nice.
On the west side, you can access the hill from the Promenade via (a ton of) stairs that start just to the left of Hotel Suisse. From the Port area on the east side, you can access it by a maze of short ramps and staircases.
We've accessed it using both sides and I think both are interesting enough to recommend that you go up one way and come down another. Our favorite route is to go up the stairs from the Promenade and down into the port side – more on that in the next section!
On the hill, you have lots of points of interest to see, such as a cemetery, an old watch tower, and the ruins of an old church. There are also fun features like a waterfall and a park that many locals use. And of course you have absolutely gorgeous views back over the city and out to the sea.
6. Take a Walking Tour of Nice
While I love wandering a city by myself, doing a walking tour with a knowledgeable local is undoubtedly a great way to really learn about the city, it's history, and all those interesting hidden gems and tidbits that only a local can tell you about.
My Recommendation: Walking Tour of OId Nice and Castle Hill This guided walking tour is a fantastic option – the tour guide is energetic, engaging, knowledgeable, and really brings the Old City to life with stories and anecdotes! This will definitely be 2 hours well spent.

Ratings: Over 450 5-star reviews | Read all reviews here
7. Vélo Bleu Rentals
The Vélo Bleu is the city-wide bike rental system for Nice and the surrounding towns. Renting a bike and cruising around for an hour is a really fun way to go sightseeing in Nice.
Renting a bike and using the system is really easy. Download the Vélo Bleu app on your phone before you go, and input your credit card information.
Then, when you're in town, open the app to find the closest available bike rental spot, scan the QR code, and away you go! When you are done, you can return the bike to any open spot, not necessarily the one you picked it up from. It's a really carefree way to experience the city and a bit of a hidden gem in Nice for tourists.
The price is very reasonable – it's 1.50 euro to subscribe, and then the first 1/2 hour is free, the second 1/2 hour is 1 euro, and any hours after that are 2 euro/hr.
8. Private Mediterranean Cruise along the Coast
What is more peaceful and romantic than enjoying the sun and waves of the Mediterranean while cruising along the coast of France? You have a few options for private boat tours from Nice.
One Hour Private Tour
Recommended Tour: Private Catamaran Tour Near Nice and Monaco
⭐Rating: 5 out of 5 stars | Read all reviews here
This option is one hour, private sunset cruise in a solar-powered boat. You'll sail the along hte coast of France, passing by several quaint villages and expansive villas.

You'll set sail from the Beaulieu-sur-Mer port, a little suburb that's just outside of Nice. From there, it's on to cruising along the sea. Since this is a private tour, it's just you – no one else to disturb or disrupt you (including the boat – since it's solar-powered, it's very quiet)

Dangle your feet in the water and watch the French countryside pass by as you watch the sunset over the sea. Villa Ephrussi de Rothschild in particular is a gorgeous place to see, but the entire coastline is charming and gorgeous.
Half Day Private Boat Tour
My Recommedendation: Private Day on the Boat
⭐Rating: 5 out of 5 stars – read all reviews here
Alternatively, there's an option for a half day boat excursion, for just your own party. From Nice you'll sail towards Cannes or Monaco, riding along the coast and admiring all the beautiful villas and little spots.
There's time to jump off the back of the boat and swim or snorkle in the Mediterranean waters. This boat excursion lasts about four hours and is good for a small group of people!
9. Stroll the Marché Aux Fleurs (Flower Market)
This charming flower market is place that locals frequent for their daily produce, but is also an attraction in its own right!
The Marché aux Fleurs is located on the Cours Saleya, near the sea in the Old Town, and in addition to flowers, offers fruit, vegetables, sea food, and other food products.
I think one of the funnest parts of vacations is trying to imagine yourself as a true local and markets are *the* place to do that. Whether you pick up some flowers for your room, browse goods to bring home as souvenirs (look for soaps, lavender products, jams, herbs, and olive oil), or grab something to eat, this is the place for you, and is definitely one of the best local places to visit in Nice.
After visiting the market, you can stop to relax and enjoy a drink at one of the many cafes lining the street as you watch others go about their day. I really think wandering the market is a must do, and a great place to find some delicious, locally grown food in Nice.
Hours: Open every day except Monday.
10. Relax in the Jardin Albert I
The Jardin Albert I has a little bit of everything, and is an absolutely delightful greenspace in Nice. It starts right at the Promenade des Anglais and heads north and east for several blocks, hugging the edge of Old Town.
In this garden you can find plenty of grassy areas, as well as several fun features. There is an interactive fountain/splashpad area, a fantastically imaginative playground with the structures shaped like sea creatures, and various sculptures. There is also a wide variety of plants, from flowers to palm trees, both local and exotic.
Wandering through the garden, people watching, enjoying the respite from the city while admiring the beautiful surroundings make this garden one of my favorite spots in Nice – we always come through here a few times during our stay.
11. The Port
The Port of Nice, also known as Port Lympia while much smaller than the nearby Port of Marseille, is nonetheless one of the most important harbors on the French Mediterranean. It's for sure worth a stroll by and through the port, particularly as many very large and very fancy yachts are anchored here. Your yacht envy will definitely be triggered here!
When you finish exploring the port, swing back west via the Promenade and see an impressive war memorial carved into the hill cliff. The Monuments aux Morts (or the Monument of the Dead) is dedicated to the fallen of World War I.
We happened to be there on VE Day (May 8) and there was a stirring tribute being done there by war veterans.
12. Explore Old Town
There are few things I enjoy as much as wandering an old town painted in orange and yellow hues, and discovering all the little gems tucked away. Tucked away in the narrow, winding streets are numerous restaurants, their enticing smells layering in every alley.
Around every corner you'll find cute specialty shops catering to a variety of tastes. Old Town is for sure one of the best places to visit in Nice.
We particularly like stopping by L'Atelier Des Cigales (The Cicada Workshop), a little shop selling handmade provincial pottery, and swinging by Place Rossetti for gelato or crepes. After your snack, drop into the Cathédrale Sainte-Réparate de Nice, a towering, stately cathedral off of Place Rossetti.
Throughout the winding streets of Old Town, you'll find stores selling olive oil, spices and herbs, local made soaps, candy, and clothes – all really interesting and many are locally made products.
The whole neighborhood has a very distinct feel from the rest of Nice. Where much of the rest of the city feels open, airy, and bright, the Old Town is tighter and has darker, richer colors. You really feel you've entered a different place! Exploring the Old Town is a must do when visiting Nice.
13. Discover More of the French Riviera
Besides being an interesting city with lots of places to visit on its own, Nice is really well-situated for day trips to surrounding coastal towns and hill villages, such as Menton, Grasse, Aix-en-Provence, Eze, St Paul de Vence, La Turbie, Gourdon, Cannes, Saint Tropez, Antibes, La Gorge du Verdon… I mean, the list is neverending! You can also hop over to Monaco, and tick a new country off your list.
You definitely want to take advantage of everything the French Riviera has to offer and go on a day trip or two.
A small group guided tour is a great option if you don't want to drive yourself around, and/or if you want to hit a few different locations in one day. These are some tours that are a great value and show some of the most beautiful and interesting locations in the French Riviera:
➡️If you're interested in all glitz and glam, consider a small group tour to Monaco. You'll get transportation, plus an in-depth guided tour of some of the most interesting spots in the city, with a lot of behind the scenes information and local tidbits.

⭐ Check rates and availability for this day trip here
➡️Alternatively, this very small group tour Riveria tour takes you to several unique, exciting, and adorable spots in the French countryside, including Cannes (location of the film festival), Grasse (most Provincial perfumeries are located here), Gourdon (a hilltop village), and Saint-Paul-de-Vence, (one of the cutest villages in all of France!)

⭐ Check rates and availability for this day trip here
➡️Another fantastic option is a combination of small villages and glitzy Monaco. In this experience, you'll first visit the village of Eze, a charming hilltop village that overlooks the sea.

Then you'll head to La Turbie, another hilltop village that is known for it's amazing views over Monaco. Finally, you'll head down into Monaco, visiting the Prince's Palace, several sites around Old Town, and ending with a visit to Monte Carlo.

⭐ Check rates and availability for this day trip here
14. Musée Matisse
This museum houses one of the world's largest collections of Matisse's works of art. That in and of itself makes it worth a visit, but the museum is located in an old, 17th century villa with an adjacent garden and grounds area.
The museum displays a sampling of Matisse's paintings, sketches, scultpures, and stained glass. If you are an art lover, this is a great stop to make.
Hours: 10am-5pm, closed Tuesdays
Price: 10 euro
15. Hit the Beach
In the summer, hitting the beach a top activity in Nice – honestly, it's really a must do when visiting the city!
You can find large swaths of beaches all along the Promenade – there's a lot of space to choose from. The beaches are filled with sunbathers and swimmers enjoying the refreshing Mediterranean water.
If you visit during the spring, fall, or winter months, it might be too chilly for laying out in your bathing suit or swimming in the sea, but there are always still people enjoying the sunset or evening waves, sharing drinks, or having a picnic. Since Nice rarely gets extremely cold, it's generally a pleasant place to visit year round.
Tip: Do note that the beach is a rocky beach – which means that if you want to lay out, a good thick towel is very helpful, and you DEFINITELY need some rubber flip flops or other form of footwear to walk, even for wading. Those rocks do not feel good on your bare feet, trust me!
16. Notre Dame de l'Assomption Church
If you've visited Paris or even just seen pictures of the world famous Notre Dame in Paris, you'll notice that the Notre Dame de l'Assomption of Nice looks like her little sister! While smaller, it is still an impressive and intricate basilica. It has many of the hallmarks of Gothic architecture, with two towers on the front, beautiful, grandiose stained glass windows, and soaring, pointed arches inside. It's definitely worth a visit!
The church is about a 15 minute walk north of the Promenade des Anglais. If you need a break from all the walking, you could also take the tram that runs north and south along Avenue Jean Medecin.
Hours: 9am-12pm, 4-7pm daily
17. Discover Roman Ruins in the Cimiez Neighborhood
Cimiez is a beautiful, upscale, and ancient historical neighborhood in the north part of Nice. It has a distinctive feel compared to the other areas of Nice, and tends to feel much more residential. However, just because the neighborhood is fairly residential doesn't mean there aren't cool things to see here!
During Roman times, this area was called Cemenelum and had a number of classic Roman structures. Today, visit the Jardins des Arènes de Cimiez, the ruins of the Roman amphitheater and baths.
During the Belle Époque (the period of time before WW1), this area became a popular vacation with Europe's royalty. The Ancien Hotel Regina was the most grand and popular hotel for the royals, and you can walk by here and admire the view.
You can also visit the Monastery of Cimiez, and don't miss the beautiful Monastery gardens and cemetery with views out over the city.
You can take the bus from Place Massena to Cimiez; it's an easy 15 minute ride, or 25-30 minute walk down into the city.
Discovering the attractions in Cimiez is what to do in Nice when you want to get off the beaten path.
18. Russian Orthodox Cathedral
Also known as the Cathédrale Saint-Nicolas de Nice, this cathedral looks like it could be right in the heart of St. Petersburg and is one of the more unexpected places to visit in Nice!
The outside has the striking onion domes associated with the Russian Orthodox churches, and the inside is ornately decorated with colors and and paintings on the walls and ceilings.
You can stop by the cathedral and explore the inside between 10am-6pm, and when a service is not currently in session. Note that no pictures are allowed inside.
While this is outside the area with the other main tourist sites in Nice, it's walkable from the Jardin Albert I in about 25 minutes. Alternatively, you can pick up bus #8 that will take you up pretty close to the Cathedral. It runs fairly parallel to the Jardin Albert I and the Promenade du Paillon – check Google maps for the closest stop!
19. Villa Ephrussi de Rothschild
If you're looking for a beautiful and unique place to visit in the south of France, look no further than the Villa Ephrussi de Rothschild. This old villa, located on Cap Saint Jean Ferrat, offers stunning views of the Mediterranean Sea and is home to multiple gorgeous gardens.
\The villa was built in the early 1900's by Baroness Beatrice de Rothschild as a showcase for her wealth and features beautiful interior decor and architecture.
There are many different rooms to explore in the villa, each with its own unique features and decorations, but the gardens are just insane. There are 9 different themed gardens on the estate, including the Spanish garden, Florentine garden, stone garden, and more.
You can even have a light meal in the tea room inside the villa, a gorgeous room with bay windows overlooking the sea.
Cost: 16 euro for adults, 11 euro for youth
Hours: Open 365 days a year, usually from 10am-6pm, except July-August (10am-7pm), and November-February (2pm-6pm on weekdays)
20. Mediterranean Cooking Class
While going to local restaurants are fun and delicious, we've really, really loved doing cooking classes while we travel. They offer such a unique insight into the regional culture, and you learn some new skills, plus you get to chat with a local, which is so interesting! And of course, the food is always top notch!
This cooking class in the countryside of Nice is perfect for enjoying a provincial afternoon. Surrounded by olive trees, you'll pick pick produce and herbs from the garden as you create a delicious Mediterranean meal.
👉Book this French provincial cooking class here
Map of Nice Attractions
Practical Information for Nice
Here are some important details to have a fun trip to southern France:
Where Should You Stay When Visiting Nice?
Choosing where to stay in Nice can influence what type of trip you have in Nice, depending on whether you want to be oceanside, right in Old Town, farther away off the tourist track, or somewhere just outside of the tourist attractions. can definitely impact your trip to Nice. Additionally, there are several really fantastic hotels with pools in Nice – which can be extremely refreshing if you're visiting during the hot summer months.
Personally, I like staying within 10-15 minutes walk of old town Nice – this keeps me relatively close to all the attractions in the city. The good news is there are a TON of options for where to stay that will keep you in that "walking distance radius."
My Top Picks!
However, if you just want my top picks for where to stay in Nice, I've got you covered below!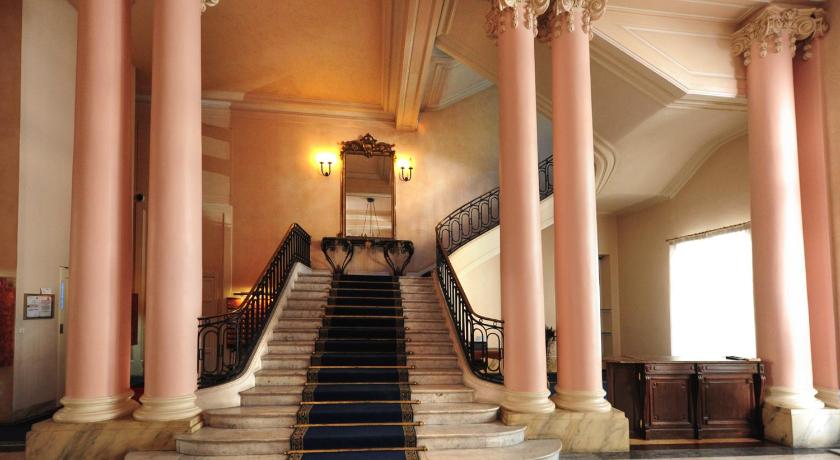 Hotel Le Negresco ($$$): This is THE most famous hotel in Nice, and it absolutely delivers on the hype. It's almost like staying in a museum, with the beautiful art, decor, architecture, and design throughout the main areas and the guest rooms in the Carré d'Or neighborhood.
👉Check rates and availability here
Prefer a Vacation Home? Here are my top 2 rental options:
✔️View of the Port Apartment: This apartment is newly renovated in a historic building, with some touches of old world charm mixed with modern amenities. The real draw for this location, though, is the view – a stunning vista over the port from every window in the flat! 👉 Book on VRBO here

✔️Beautiful, Spacious Garden View Flat: This is really the French apartment of my dreams – it has parquet hardwood floors, a French style fireplace, guilded mirrors, decorative molding, full length windows, and a garden overlook in the Jean-Medecin neighborhood. Swoon. 👉Book on VRBO here
How Long Should You Spend in Nice?
I think that two full days is a perfect amount of time to hit up all the fun and cool things to see and do in Nice. I would plan for another 1-3 more days for day trips to nearby cities and villages!
When Is the Best Time to Visit Nice?
Honestly, Nice is a great destination no matter what time of year you visit. The winter months do get cooler, but the average high in January is still in the mid-50's F. There are definitely much fewer people visiting in the winter, so if you like avoiding crowds, this is a great time to visit Nice.
Spring and fall are absolutely lovely, with pleasantly mild days and highs in the 60-70 F range. September and October do see more rainfall than other months of the year. Crowds aren't as low as winter, but are definitely less than summer.
Summer is a great time to visit Nice for sunny days and balmy weather. This is also the ideal time for hitting the beach, as both the air temperature and sea temperature make swimming and sunbathing pleasant. However, southern France is a popular summer destination, so crowds can be quite high.
How to Get Around Nice
Nice is a very walkable city. The vast majority of these places you will not need a car to get to, just your own two feet!
If you do want transport within the city, there is the bus system, the trams, taxis, and Uber. I would not recommend renting a car to get around Nice.
Nice Travel Essentials
These are a few of my favorite travel essentials, things that I always reach for on vacations and are perfect for a getaway to Nice!
Sandals: You'll definitely need good footwear for exploring the city. These sandals are my absolute favorite summer footwear – they are cushy and supportive and feel fantastic straight out of the box (I wear the "gold cork" option). I have struggled hardcore finding good sandals to wear on trips when I'm walking a lot, and these are THE best, by a long shot!

Sneakers: Alternatively, if its chilly or you would rather wear sneakers, I have loved these white, faux leather sneakers. Again, they are super cushy and keep my feet happy during long days walking around. I wouldn't wear these on vacation straight out of the box, though – give them a couple weeks to break in, and then you'll be golden!

Purse: A crossbody purse is essential for travel. I always travel with this purse (and keep it zipped and in front of my body to prevent pickpocketing).

Power Adaptors: France uses type C plugs, so if you are coming from the US (or another country that doesn't use type C), you'll need power adaptors to charge your electronics. These ones are inexpensive and come in a set of three!

Dresses: A trip to southern France (especially during the summer!) just calls for some light and airy dresses. I LOVE this one and own it in two prints, (now that I'm thinking about it, maybe I need a third…). I also love this dress, it's just so dang easy to wear.

Earrings: Finally, these rattan tassel earrings and these circle rattan earrings are so cute– they are perfect for a southern France trip.
Don't Forget Travel Insurance!
Securing some travel insurance is an important part of prepping for any international trip – you never know when something might happen, and your regular insurance generally won't cover you overseas. Costs for a medical emergency on vacation can add up extremely fast, so it's just better to be safe than sorry. (And If covid has taught me anything, it's that you never know what could happen!)
I like booking insurance at Insure My Trip, as they offer a variety of plans with different coverages to choose from, so you can find the right option for you. Plus, they have great customer support if you need help before, during, or after your trip.
Get a quote at Insure My Trip here!
What to Do in Nice When it's Raining
While many of the attractions to see in Nice are outside, there are several activites to do in NIce that are inside and great for rainy days. These include:
Visiting the Musee Matisse or the Musee Chagall
Going inside the churches
Doing a wine tasting
What to Do In Nice – The Wrap Up
Is Nice worth visiting? My answer is a resounding HECK YES. After traveling around a lot of places in France, it remains one of my top top favorite places to visit.
Whether you visit for the beaches, the architecture, the food, the laid back vibe, or the access to other points in Provence, you will not be disappointed with all the interesting and exciting things to do in Nice!
Need More France Inspiration? Check out these articles:
>>Or browse all my France posts here!
Pin for later!