21 Incredibly Romantic Things to Do in Paris for Couples
Paris has the reputation of being a romantic city, one that is perfect for lovers. As someone who has traveled to Paris multiple times (6 to be exact!) I can absolutely confirm that is true!
The food, the architecture, the river, the beautiful gardens, the castles, the ambiance all makes for a perfect setting for a couple's vacation. I'm just saying… it isn't nicknamed the City of Love for nothing.
If you're in Paris with your partner and looking for the most romantic activities and things to do, you're in luck! In this article, I'm sharing some of the most romantic things to do in Paris for couples – the best activities, experiences, and attractions for those of you who want to have a particularly memorable Parisian holiday with your loved one.
This post contains affiliate links. When you buy through these links, I may earn a small commission at no additional cost to you. These commissions help keep this site running. Thank you so much for your support!
21 Most Romantic Things to Do in Paris for Couples
1. Do a Romantic Photoshoot by the Eiffel Tower
I LOVE doing photoshoots when traveling with my husband, and we have now done 5 different photoshoots around the world. There's nothing quite like hiring a professional to capture real and beautifully composed moments of you and your partner in love in one of the most romantic cities in the world. The pictures you'll get are truly the best souvenirs you could ever come home with!
In this photoshoot, you'll meet your photographer at the Eiffel Tower first thing in the morning, and then can wander the area around the Eiffel Tower, getting shots at a variety of different viewpoints. The memories evoked from these pictures will last forever, which is why it secures my top spot for romantic things to do in Paris!
👉Check rates and availability for this Eiffel Tower photo session here
⭐ Rating: 4.97 out of 5 stars | Read all reviews here
Sipping wine and tasting cheese – all locally produced of course – is one of the most quintessentially French things to do, and is a perfect romantic activity for couples in Paris.
This wine and cheese tasting takes place in a cozy and atmospheric wine cellar in Paris. Guided by an expert and entertaining sommelier, you'll taste wines produced in several regions of France, learning about the differences in wines from each region and the proper way to taste it.
A selection of cheese and cured meats is also provided to nibble on during your wine tasting, and you'll learn which cheeses pair best with which wines. Embrace your inner French persona and linger over your wine and cheese in this charming wine tasting experience.
👉Check rates and availability for this Wine and Cheese Tasting here
⭐ Rating: 4.81 out of 5 stars | Read all reviews here
3. Discover the Rooftops of Paris
One of the best viewpoints in Paris is actually a semi-secret spot: the rooftop of Galeries Lafayette, a famous and beautiful department store in Paris. In Galeries Lafayette, locate an elevator and take it to the top floor. Here, you'll get 180 degree panoramic views over the Paris, including this bomb view of the Eiffel Tower.
There are two restaurants on the rooftop of Galeries Lafayette you can visit, but it's free to visit and just take in the views!
For the hopeless romantic who loves a good vintage moment, this private tour in a vintage 2CV car around Paris will be a top memory from your trip. Climb in with your driver, Jean-Phillippe, you will take you around to the top spots and hidden gems in Paris in this classic car. The sunroof opens to get great views of everything you are driving by – enjoy the breeze through your hair as you take in the classic Parisian sites.
The car has been restored and is in fantastic condition, and Jean-Phillipe is an excellent driver and guide. He stops and takes pictures for you with the car and at sites such as the Eiffel Tower, making for a memorable and romantic experience!
👉Check rates and availability for this Vintage Car Tour in Paris here.
Ratings: 4.89 out of 5 ⭐ | Read all reviews here
This tour combines all the charm of driving around in a vintage 2CV car around Paris, and combines it with the romantic ambience of doing it at night, when the streets are dancing with lights!
While sipping champagne, you'll drive by and see many well-known romantic spots in Paris, plus some secret places you may not have seen, hearing interesting little tidbits and fun facts about the locations. You'll make a few stops to take pictures with you and the car. Your driver is incredibly engaging, funny, and knowledgeable, and will help bring the city to life for you.
You'll end the tour at the Eiffel Tower, watching the lights glow, making this a romantic night to remember! This tour is completely private – it's just your group enjoying the refreshing night air.
👉Check rates and availability for this Nighttime Vintage Car Tour here!⭐ Rating: 4.98 out of 5 stars | Read all reviews here
6. Marvel at the Opera Garnier
The Opera Garnier is only about a 15 minute walk from the Louvre and is one of the most GORGEOUS buildings in all of Paris. This building was the inspiration for The Phantom of the Opera and has a striking grand staircase, little alcoves to overlook the main atrium, and this absolutely jaw-dropping room (pictured above): the Grand Foyer.
While this opera house has been gaining popularity in recent years, it is no where near as crowded as the famous Versailles chateau, but has a similar level of opulence. If you want to come see a show at the opera, check the box office site. Otherwise, just strolling through the beautiful opera house is a wonderful romantic thing to add to your Paris itinerary.
Tip: If you're just coming for a daytime self-guided tour, the entrance is actually around the back-left side of the opera house.
While activities that involve seeing the Eiffel Tower are always popular for couples in Paris, have you ever considered dining ON the Eiffel Tower?
This romantic experience involves lunch at Madame Brasserie, a restaurant on the first level of the Eiffel Tower. You can enjoy a gourmet 3 course meal while sitting between the tresses of the Iron Lady. The elevator to the first floor is included in your price, and you can easily buy a second elevator ticket to go to the top of the Eiffel Tower when your meal is over.
👉Check rates and availability for this meal on the Eiffel Tower here
⭐ Rating: 4.6 out of 5 stars | Read all reviews here
On this Chocolate and Pastry Tour, you'll eat your way through the Saint-Germain neighborhood, an area well-known for its chocolateries. Sampling chocolates is definitely a romantic thing to do as a couple, and on this tour you'll be introduced to some of the best chocolateries in Paris, as well as some new and interesting types of high quality, hand-made chocolates and pastries to try.
As you walk around Saint Germain on this small group tour, you'll visit 6 different shops, sampling delicacies and chocolates from each location. Make sure you come with an empty stomach!
👉Check availability and prices for this Chocolate and Pastry Tour here
⭐ Rating: 4.78 out of 5 stars | Read all reviews here
An incredibly romantic thing to do when visiting Paris is to take a day trip out to the Champagne region of France (about 2 hours from Paris) to visit the vineyards and do some wine tastings.
On this very small group tour, you'll drive through the idyllic French countryside to arrive in Champagne, where you'll visit 2 different wineries, walk through a vineyard and a wine cellar, and learn about the process of growing, harvesting, and producing champagne. Throughout the day, you'll sample at least 6 different types of champagne. During your visit, you'll stop in the town of Epernay, the capital of the region, to explore the town and have lunch.
This is a wonderful romantic thing for couples who love bubbly to do on a trip to Paris.
👉Check rates and availabiltiy for this Wineries of Champagne Day Trip here
⭐ Rating: 4.86 out of 5 stars | Read all reviews here
While there are gorgeous castles (chateaux) all over France, the Loire Valley (about 2 hours from Paris) is famous for having a high concentration of really beautiful and unique castles in France.
On this Loire Valley Chateaux Day Trip, you'll visit 3 very different chateaux: Chateau Chambord, a massive, sprawling castle that was built to be a "mere" hunting lodge, and Chateau Chenonceau, which actually spans the river on a series of arches.
You'll also stop at Chateau Amboise, a castle that saw some of the first Renaissance architecture in France. Leonardo da Vinci actually lived and worked just down the street from Amboise, and his house was connected to the chateau via undergound tunnels. Da Vinci was buried here and you'll see his tomb during your visit.
On this all day tour of the Loire Chateaux, you'll visit all three of these stunning locations, as well as a wine cellar, where you'll enjoy a wine tasting of three different wines produced in the Loire region.
👉Check rates and availability for this Loire Valley Chateaux Day Trip here
⭐ Rating: 4.76 out of 5 stars | Read all reviews here
11. Create Your Own Parisian Picnic
One of my favorite types of lunches in Paris are little picnic lunches we create from a mixture of boulangerie and grocery store items. Personally, I think creating your own picnic in Paris is an incredibly romantic thing to do, especially if you are nibbling on delicious French foods and pastries in one of Paris' beautiful gardens, or even in the shadow of the Eiffel Tower.
12. Stay at a Romantic Hotel
There are a lot of options for where to stay in Paris, but if you're looking for a romantic hotel in a great location for your Parisian holiday, here are my top 4 picks for luxurious, romantic hotels:
✔️The decor and art around this hotel is done in an old world style, and is all a nod to Leonardo da Vinci
✔️This hotel is a block away from one of the most beautiful stretches of the Seine, right across from the Louvre and Tuileries gardens, and close to the Musee d'Orsay.
✔️This the hotel is unique for Paris in that it has a relaxing and peaceful spa on site.
⭐Rated 8.8 of 10 – read all reviews here
✔️The Elysées Union is set right between the Eiffel Tower and the Arc de Triomphe, making it an easy 10-15 minute walk to reach both of these iconic Parisian landmarks.
✔️The best part of the Elysees Union, though, is the Eiffel Tower views you get from some of the rooms.
✔️The interior courtyard is a nice added touch to this lovely hotel.
⭐Rated 8.2 of 10 – read all reviews here
✔️The Spendid Etoile is beautiful hotel located just two blocks away from the Arc de Triomphe, and offers beautiful views from some rooms to the Arc, and even some views to the Eiffel Tower.
✔️Rooms have an old world vibe and the marble bathrooms are lovely.
⭐Rated 8.8 of 10 – read all reviews here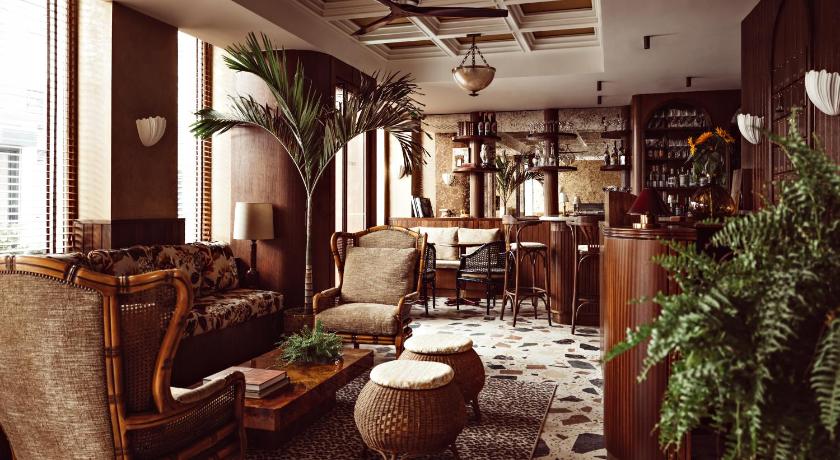 ✔️The Aristide is a newer boutique hotel set in the Montmartre neighborhood, and they really show attention to detail with the furnishings around the property.
✔️The garden terrace is gorgeous
✔️The streets right by the hotel are filled with cafes, bakeries, and chocolate shops, making it a great place to hang out.
⭐Rated 9.2 of 10 – read all reviews here
This French cooking class is a chance to get a hands-on experience with preparing and feasting on traditional and delicious French cuisine. Choose from a 6 hour experience, which includes visiting a local market with Chef Frederic to make purchases for your meal, or the 4.5 hour experience (no market stop).
Then, head into the bright and inviting kitchen to begin work on your 3-course lunch, which includes an appetizer, main dish, and dessert that you help select. The class is a good mix of learning from a professional and getting hands-on experience yourself, and Chef Frederic is a fun and engaging host and teacher.
After your meal is prepared, sit down and enjoy your meal together, accompanied by a glass of wine. This promises to be one of the most enjoyable meals you'll eat during your entire time in Paris!
👉Check rates and availability for this French Cooking Class here
⭐ Rating: 4.92 out of 5 stars | Read all reviews here
14. Meander Through the Gardens of Paris
Visiting Paris's many parks, gardens, and squares is one of my favorite things to do in the city, whether I'm with my husband or with friends. However, there is something undeniably romantic about the gardens of Paris, with their manicured lawns, pretty flower displays, sculptures, bridges, fountains, and water basins.
Paris' greenspaces are much more than just a lawn, they are works of art within their own right. The Jardin de Tuileries and Jardin de Luxembourg are the most famous, and some of the biggest gardens in Paris, and you definitely shouldn't miss strolling through them hand in hand.
15. Watch the Eiffel Tower Sparkle at Night
Of course, visiting the Eiffel Tower is a must-do for any Paris itinerary for couples, but is a particularly romantic place when the lights are sparkling. The sparkles happen every hour on the hour for five minutes, starting at sunset and stopping at 1am. (So, if sunset is at 7:30, the first sparkles will happen from 8:00-8:05pm).
Watching the sparkles on the Eiffel Tower is truly magical – I've seen them dozens of times and it never gets old!
Macarons are one of France's most iconic desserts, and these tasty little treats require a very unique process to create.
In this experience, you and your partner will learn the art of making delicious macarons together in a little kitchen in the famous department store of Galeries Lafayette. Learn from a master chef how to prepare a traditional French macaron – you'll create at least 4 different flavors to eat now, or save for later.
Macarons are such a quintessential Parisian dessert, and learning how to make one with your partner is a fun and off the beaten path experience to have in Paris.
👉Check rates and availabiltiy for this Macaron Baking Class here
⭐ Rating: 4.55 out of 5 stars | Read all reviews here
Vaux le Vicomte is a truly underrated chateau to visit near Paris – the castle is beautiful and the grounds are absolutely gorgeous. This evening is a lavish affair, with a candlelit, 3 course, gourmet meal. Over 2,000 candles illuminate the grounds, and you can enjoy the opportunity to explore the castle, gardens, and carriage house without the daytime tourist crowds.
The evening concludes with a fireworks display above the castle – it will definitely be a romantic night to remember! Round trip transportation from Paris is included.
👉Check rates and availability for this Candlelit Evening at Vaux le Vicomte here
⭐ Rating: 4.75 out of 5 stars | Read all reviews here
18. Relax on a Seine River Dinner Cruise
Going on a boat tour of the Seine River is a great thing for anyone to do in Paris, but a Seine River Dinner Cruise. is definitely a more romantic version of this activity.
Indulge in a delicious 4-course French dinner as you float past the Eiffel Tower, Notre Dame, the Louvre, and the beautiful Pont Alexandre III, while being serenaded by live musicians onboard the boat.
Finish the 3 hour cruise by watching the lights of the Eiffel Tower sparkle against the night sky.
👉Check rates and availability for this Romantic Seine River Dinner Cruise here
⭐ Rating: 4.5 out of 5 stars | Read all reviews here
19. Find the Wall of I Love You (Mur des Je t'Aime) in Montmartre
Tucked away in the back of a little garden in the neighborhood of Montmartre, one of the most charming Parisian arrondissements, is this cute little "I Love You" wall, where the phrase is written out in dozens of languages. The setting is quiet and charming, and the wall makes for a romantic photo op in Paris!
20. Stroll Along the Seine
One of my favorite things to do in Paris when I'm visiting with Matthew is to stroll the sidewalks and pathways along the Seine, hand in hand, enjoying the beautiful views of the buildings lining the river.
The Seine River in Paris is somewhat unique in that there are pathways that go right up to and along the river. Oftentimes, these pathways are below street level, and there aren't always guardrails protecting you from falling in the water, which lets you feel more connected to the river.
There are regular staircases or ramps that take you from street level to the water level, though they aren't every single block.
21. Shop for Luxury Items on the Champs Elysées
The Champs Eysées Boulevard is one of the most famous streets in the world, and runs between the Jardin de Tuileries on one end to the Arc de Triomphe on the other. This street is full of name and luxury brands, (as well as some other types of shops like department stores and even some grocery stores).
We have rarely bought anything on the Champs Elysees, but it is certainly a fun place to stroll through and window shop. And if your idea of a romantic vacation with your partner involves bringing something beautiful and expensive home with you, the Champs Elysees is a good place to start shopping.
Romantic Things to Do in Paris for Couples – The Wrap Up
I truly love Paris for all its offerings, from gorgeous architecture, to delicious food. But, one of my favorite things is how it can still feel intimate even while being a bustling metropolis, and that can make all your experiences there feel more special.
If you are looking for a place to connect with someone you love, Paris can bring that romantic feeling to the next level. There are so many options for romantic and fun activities you can do in Paris as a couple, and I'm sure you'll find something on this list to make wonderful memories together!
Pin for Later!