A Detailed Guide to the Colmar Christmas Market in 2023
Colmar, France is 100% a fairytale village and the Colmar Christmas market is just as charming!
It is said to be the village that "Beauty and the Beast" is based off of and it fits – the town exudes idyllic provincial life. I legitimately squealed on several occasions while exploring the streets of Colmar.
Add in all the markets, the Christmas trees, the lights, and the decorations on almost all the buildings and Colmar is a winter wonderland come to life.
But first off – the basics! Colmar is on the very eastern edge of France – right on the border of France and Germany – and is in the region of France known as Alsace. This region has actually changed hands between France and Germany several times, so it's no surprise to see a lot of German/Bavarian influence in the town.
One thing you'll notice is that gingerbread men are everywhere in Colmar – it is a particularly popular treat in this area of France! In French, gingerbread is "pain d'épice."
There are 6 distinct Christmas markets in Colmar. None of the markets are huge, but there is a lot of charm from the decorations, the stands, the Christmas music playing on speakers, and the cute buildings surrounding the squares.
Most of the markets had their own Christmas tree, theme, and vibe, and together they created a beautiful Christmas tapestry across the city.
This post contains affiliate links. When you buy through these links, I may earn a small commission at no additional cost to you. These commissions help keep this site running. Thank you so much for your support!
Where to Stay for the Colmar Christmas Market
Hotels book up early for the Christmas markets – if you want to visit and stay in Colmar during the Christmas market season, I would highly recommend booking your hotel as early as possible.
These are my picks for best hotels to stay in Colmar: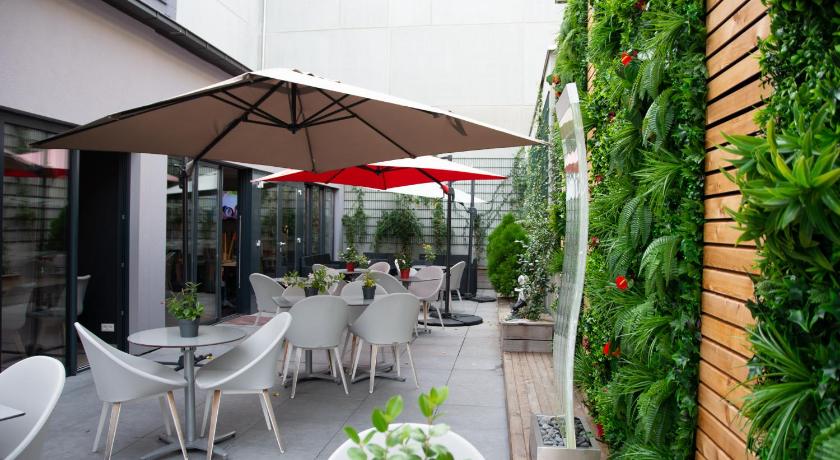 The Colmar Hotel: (best budget hotel)
Situated just outside the city center and a short walk from all the sites, this hotel is a great price, basic but incredibly clean, and offers both free parking and free breakfast!
👉Book Here
Hotel Le Marechal: (most historic)
This gorgeous historic hotel has features like exposed beams and stone walls, and decor choices that make you feel like you stepped back in time by a few hundred years. Plus, its very centrally located to the markets, right in the charming Petite Venise quarter.
👉Book here
L'Esquisse Hotel and Spa: (Most luxurious)
This hotel, with the adjoining spa, is a luxurious retreat after a day exploring the markets. All the rooms are designed with high comfort, attention to detail, and understated elegance in mind. It's located on Place Rapp, right by the Carousel bar and ice skating rink.
👉Book here
Drinks at the Colmar Christmas Market
All over the city, you can find drink stands where you can buy vin chaud (hot, mulled wine), non-alcoholic hot cider, or hot chocolate. When you buy your drink, you also pay a small deposit for the cup it is served in. In Colmar, the deposit was one euro for the plastic cups, and anywhere from 3-5 euro for the ceramic mugs.
Note: In other Christmas markets in Europe, the markets exclusively used ceramic mugs, no plastic cups. In France, the plastic cups were much, much more common, but there were one or two stands in the city that had mugs available as well.
When you are done with your drink, bring the cup/mug back to the stall where you bought it and you get your deposit back.
Alternatively, you can keep the cup/mug as a souvenir. The mugs and cups are really cute and each city has different designs on their mugs.
Since we had been collecting mugs from the different markets in Germany, Switzerland, and Luxembourg, we really wanted to continue the collection in France, so I will be making note of where we found mugs in Colmar. (We also kept a plastic cup from Colmar, but you'll have no trouble finding that.)
Ok! With that very important point out of the way, let's get into the details of the Colmar, France Christmas market!
Market 1: Place des Dominicains
I loved this market at Place des Dominicans – it was one of the bigger markets in Colmar, and it was set up in the cutest square!
In addition to being surrounded by cute, timbered houses, the stands themselves were timbered too, which was a wonderful touch. Each stand had a religious painting at the top of it. This market was one of two in the shadow of a church and it embraced that with its decorations and theming.
There was a good balance of wares and food at this market, with a large variety of ornaments and candles, notched rolling pins and spatulas, Christmas ceramics, and even a Santa Claus-themed stall.
This market had the only stall in the six markets that we noticed selling ceramic mugs instead of plastic cups for drinks, so we had to grab one! How adorable is this red gingerbread mug?
There was also a little, mini kid's ferris wheel here in Market 1.
Market 2: "Terroir" and Tradition
This market in Place Jeanne d'Arc was the smallest of the traditional markets in Colmar. The stalls were trimmed with garland, and some of them had extra decorations – like these polar bears! The theme was officially "terroir and tradition" or, the culture of the region.
This market had some tasty food offerings, such as skewers of chocolate covered fruit, sausages, or a cheese stall. There was also a stall selling mousse balls ("boules mousse") – chocolate covered mousse, which were delicious!
Some notable wares at this market included artwork, Christmas ceramics, and wine for purchase.
Be sure to check out this building just outside the market – the shutters are covered in Christmas decorations, and there's this adorable little Christmas scene above the first level!
Market 3: Place de l'Ancienne Douane
Market three was a FUN market! There were a lot of things happening here! First off, the theme of this market is undoubtedly toys and games. Each of the stands had a picture from the local toy museum at the top of it.
To keep the theme going, there was also a kiddie train ride with Disney characters along the track.
This market was long and skinny, winding down the street, along a canal and around a fountain, which were both insanely picturesque. The canal had decorations across the top of it, and the fountain was trimmed out in garland.
Fun fact: The fountain Belle sits at to read at the beginning of Beauty and the Beast closely resembles this fountain, the Schwendi Fountain!
Interesting goods at this market include homemade jams, cookie cutters and cookie presses, wines, specialty coloring pencils, handmade leather writing books, crayon-shaped chocolates, and even Russian nesting dolls. Additionally you could find traditional gingerbread, Alsacian cookies, and other Christmas ornaments and decorations.
And of course, I can't forget to mention that the most Instagrammable spot in Colmar is found at market 3, by this Christmas tree and pink house. It's an adorable spot!
Market 4: Indoor Market Koifhus
This was the most unique of the markets in Colmar. It was an indoor market and the vendors were set up at simple tables, no cute wooden stalls decked out with garland and other decorations. The wares for sale were the main attraction, with everything displayed being either a handmade artisanal good or an antique.
You could tell that these goods were incredibly high quality and made with a lot of care. Some things we saw included jewelry, art, chocolate sculptures, tablecloths, pinecone wreaths, books, cutting boards, and ceramic plates and serving bowls.
Note that there is a lower level and an upper level, with two different entry points for each level. The small square around the entrance to these markets is really cute, with a distinctive house decorated with polar bears and the area was magical at night.
Market 5: Petite Venise
Market 5 is in the Petite Venice area of Colmar, which is an absolutely ridiculously adorable part of town. FOR SURE plan to spend some time just wandering this area of town, especially along the Quai de la Poissonerie.
The market here had a somewhat different feel! There were still stalls selling goods and food, but there were several rides, including this horse riding ride that was, dare I say, just as fun for adults as for kids 😉
In the back corner of the market you'll find a nativity (or crèche) with actual live animals! Now, the animals weren't all together, but there were rabbits and sheep in different pens around the nativity area. It was a cute concept!
Between the rides, the animals, and being right next to the adorable canal, Market 5 is one not to miss!
Market 6: Gourmet Market
Finally, we have Market 6: the gourmet market. This market is one big tent, with individual food stalls around the perimeter and lots of tables for eating in the middle.
Types of foods available at the Gourmand Market include: butternut chestnut soup, spaetzle, foie gras, fried potato cakes, savory crepes, pork stew, smoked pork plate, pretzels, escargots, oysters, burgers, and truffle risotto. As you can see, there is a huge variety of different types of foods – definitely something for everyone!
There are also cooking shows on many days – you can consult the official schedule for details.
This tent was set up in the shadow of the beautiful St. Martin's church, with a Christmas tree decorated in gingerbread men and a reindeer ride nearby.
Place Rapp
While not a market itself, this spot by the Champ de Mars park is a must-stop destination while touring the Colmar Christmas market.
Here, you can go ice skating (8 euro gets you admission plus ice skate rentals), ride a mini roller coaster, or get a drink at the Carousel bar.
The vibe in this area was super festive and jolly and happy!
The Carousel bar was a fun, unique spot, and it did spin (albeit very slowly!). I mentioned that we found the only mugs in Colmar in Market 1, but the Carousel bar had their own mug (with a carousel on it, of course), so we had to get one of those as well.
Plus, the drinks we got here (cranberry cider and nutella hot chocolate) were seriously top contenders for best drinks of the entire trip.
Map of the Markets
What to Eat at the Colmar Christmas Market
There are a lot of different options of foods to eat while perusing the markets!
Crepes
Pretzels
Waffles
Churros
Sausages and hot dogs
Tarte Flambée: Reminiscent of pizza or flatbread, this "tart" has a very thin, crispy crust, and is topped with cream, onions, bacon, and cheese. Delicious!
Baguette Flambée: This is a baguette topped with cream and cheese, and then toasted. There are a lot of varieties of baguette flambée you can choose from in the case, and then it is toasted fresh for you. Don't miss it!
Croque Monsieur: A ham and gruyere sandwich, covered in béchamel sauce and then toasted.
Chocolate covered fruit
Kougelhopf: A traditional German/French cake made in a bundt pan, and sometimes with different flavors. Mini ones are 4 euro, whereas big ones can be 9-10 euro and are BIG.
Manalas: These are essentially brioche buns shaped into a little man. They are traditionally eaten in the Alsace region to celebrate St. Nicholas Day on December 6, but you can buy them from the markets all season long.
Goods for Sale at the Markets
This is a sampling of the many offerings for sale at the markets around Colmar:
Colmar Christmas Market Dates for 2023
The Colmar Christmas Market opens Thursday, November 23, 2023, and closes Friday, December 29, 2023.
Opening Hours:
Monday to Thursday: 10am-7pm
Friday to Sunday: 10am-8pm
24 December: 10am-5pm
25 December: 11am-8pm
26 December: 11am-7pm
Getting Around the City
Colmar is very small and compact – all you need to get around the city are your own two feet!
Traveling to Christmas Markets in Other Cities?
While you can easily take the train between many cities in Europe, for this trip we chose to rent a car and drive between towns (since we were going at a fast pace to visit other markets like the Basel Christmas Market, the Cologne Christmas Market, and the Strasbroug Christmas Market).
Driving in Europe is straightforward, the roads are well-maintained, and the signage is easy to follow. And if you want maximum flexibility when visiting several Christmas markets, you'll definitely want a car.
My biggest tip for renting and driving a car in Europe is book your rental car as early as possible– rental cars are in high demand and the prices go way up and the availability goes way down the closer you get to your travel dates.
👉We have found that we get the best prices and availability and options for rental cars on DiscoverCars.com – check prices here!
How Long Do You Need?
Because Colmar really is just a village, one day is plenty of time to see the sites in town. The city center isn't all that big and it's totally walkable. There's really no need for any kind of transportation other than your two feet to get around Colmar.
You could also do Colmar as a daytrip from Strasbourg, France, which is 1 hour north of Colmar by car.
Christmas Market Essentials
These are a few of the things I wore or brought with us for our Christmas market tour!
Wool Coat: Like most Christmas markets in Europe, the Colmar Christmas market was chilly – I cozied up with this affordable wool coat.

Pom-Pom Beanie: This beanie was cute and warm and comes in a variety of colors.

White sneakers: Comfy shoes are important – you'll be putting a lot of miles in as you explore the markets. These are my favorite sneakers – they are so soft and cushy!

Green/Black skirt: If you want a fun, festive outfit, this skirt is perfect for the holidays.

Black Tights: These tights are thick and opaque and go well with any winter dress or skirt, or just as another underlayer.

Crossbody Purse: I always bring this cognac crossbody purse with me on trips – I keep it zipped and in front of my body to prevent pickpocketing.

Power Adaptors: France uses type C plugs, so if you're coming from the US, you'll need a power adaptor. This set is affordable and comes in a 3-pack – perfect so everyone can charge their devices.

Packing cubes: I LOVE using these packing cubes to keep all of my clothes and gear organized in my suitcase (is there anything worse than all your stuff mixed up after one day?)

Power Bank: Being out sightseeing and taking pictures all day can seriously drain your battery. I love this power bank because it gives us several charges and has a digital screen.

Travel Umbrella: If there's rain in the forecast, this travel umbrella packs down small – easy to stick in a purse or backpack.
Other Things to Know About Visiting the Colmar Christmas Market
There are no entrance fees to visit the Christmas markets.
I would plan to visit the markets during the day, and then wander back through the city at night. It's a whole different vibe with all the lights on at night!
People in Colmar speak French, of course, but many also speak German. In addition, you will find that most people interacting with tourists speak at least some English.
Plan ahead and bring cash with you! You may be able to find a stand or two that accept cards, but most are cash only. However, there are ATMs around the city, so it's not hard to find a spot to pull out some euros if you need more.
Weekends are very busy, so if you can, visit on a weekday
Don't Forget Travel Insurance
Securing some travel insurance is an important part of prepping for any international trip – you never know when something might happen, and your regular insurance generally won't cover you overseas. Costs for a medical emergency on vacation can add up extremely fast, so it's just better to be safe than sorry.
I like booking insurance at Insure My Trip, as they offer a variety of plans with different coverages to choose from, so you can find the right option for you. Plus, they have great customer support if you need help before, during, or after your trip.
👉Check rates at Insure My Trip here!👈
The Wrap Up
We absolutely ADORED Colmar and the day we spent frolicking through the city and her markets. I cannot recommend Colmar enough!
Pin for later!