7 Best Wine Tours in Nice for Your French Riviera Vacation [2023]
Trying to find the best wine tours in Nice for your southern France vacation? Read on for 7 great options!

Did you know that there are over 27,000 (!!!) wineries scattered all around France, producing over 200 varieties of wine??
Of course, you can drink wine in just about any restaurant in France, but a dedicated wine tasting will take you through several different selections of wine (including red, white, and rosé), explaining the region it comes from, notable features, and the production process to grow the grapes and create the wine.
Some of these Nice wine tours focus exclusively on the wine tasting, and some include visits to beautiful, idyllic vineyards just outside the city. This is a lovely and quintessential "French" thing to do when you visit Nice!
This post contains affiliate links. When you buy through these links, I may earn a small commission at no additional cost to you. These commissions help keep this site running. Thank you so much for your support!
No time to read the whole article? Here's my top pick:
Wine Tastings in the Provincial Countryside Tour
This small group, full day tour from Nice takes you into the countryside, to three gorgeous and unique wineries, plus a stop in a charming Provincial village for lunch. It'll be an idyllic day sipping wines in the French countryside.
Wine Tours In the City of Nice
The following wine tours take place in the Old Town of Nice and are super convenient for adding to an afternoon in the city.
⭐ Rating: 4.94 out of 5 stars (37 reviews) | Read all reviews here
Tour Length: 2 hours

This wine tasting experience lasts 2 hours and takes place in a cozy wine shop right in Old Town, so it's easy to add into your Nice itinerary. Your knowledgeable host will guide you through the experience of tasting French regional wines, teaching you about the region and the types of wines you are tasting.
You'll taste a variety of red wine, white wine, and rosé while you're guided through the process of sampling each bottle of wine.
Best For: If you want a low cost and low time commitment activity, but still sample and learn about French wines
⭐ Rating: 4.71 out of 5 stars (342 reviews) | Read all reviews here
Tour Length: 3 hours
On this walking food and wine tour in Nice, you'll visit some of the best markets and specialty food shops and sample the best of French and Nicoise cuisine. As part of the tour, you'll also have the opportunity to sample olive oil produced in the region, and do a small wine and cheese tasting as well.
You'll try ~20 samples of different foods, presented by your guide who is knowledgeable about the region and the cuisine, and shares lots of interesting facts and stories.
This is a small group tour to maintain a high quality experience for everyone, lasts about 3.5 hours, and takes place in the heart of Nice.
Wine Tours Nearby Nice (in the Countryside)
The rest of the Nice wine tours on this list take place in the countryside around Nice and are perfect as a half-day or full-day tour. These wine tours near Nice really give you a lovely and unique experience with French vineyards and wine!
⭐ Rating: 4.9 out of 5 stars (291 reviews) | Read all reviews here
Tour Length: 5 hours
This idyllic e-bike and wine tasting half day tour that takes you through the beautiful French countryside on a e-bike. You'll enjoy the views of rolling hills and the sea as you bike along (aided by the motor on the e-bike), and then visit a nearby winery for a wine tasting.
Learn about the process of growing grapes and producing wine, and taste some of the wine that is made at the estate. After your tour, you'll enjoy a picnic lunch on the grounds.
This tour is small group (max 10 people) to ensure a good experience, and the electric bikes make biking through the countryside enjoyable and not too strenuous.
⭐ Rating: 4.93 out of 5 stars (30 reviews) | Read all reviews here
Tour Length: 8 hours
On this multi-stop tour of Provincial wineries, you'll travel in an air-conditioned van to visit 3 different and unique vineyards near Nice. You'll tour the vineyards and cellar, and learn about the whole process of wine production, then enjoy wine-tastings led by an expert sommelier.
You'll get a long stop for lunch in a nearby quaint village in the middle of the day before continuing on your wine tour. The countryside and vineyards are all beautiful, with spectacular views.
⭐ Rating: 4.94 out of 5 stars (50 reviews) | Read all reviews here
Tour Length: 8 hours
This private Provence Wine Tasting tour near Nice is perfect for anyone wanting a private, intimate experience with just your group, your guide, and the vineyards.
On this excursion, you'll tour and taste your way through three different vineyards, learn about winemaking and its history in France, and indulge in 15 different wines throughout the day.
The estates that you'll visit are delightfully historic and beautiful, and have been making wines in the region for hundreds and hundreds of years. You'll have plenty of time to take your time and savor the wine, the setting, and the experience.
⭐ Rating: 4.5 out of 5 stars (18 reviews) | Read all reviews here
Tour Length: 4 hours
This half day village + winery tour takes you to the absolutely adorable Provincial village of Saint Paul de Vence, where you'll have time to wander the cobblestoned streets and explore this artsy, hilltop, medieval village.
After that, you'll head to a local winery, where you'll enjoy a tour of the vineyard and a wine tasting overlooking the vineyard and hills of the French countryside.
This is a great option if you want to combine a village tour and a winery tour.
⭐ Rating: 5 out of 5 stars (8 reviews) | Read all reviews here
Tour Length: 4 hours
This organic wine and provincial food tasting tour is a private excursion, meaning it's only your group, and can thus be customized to your liking.
You'll visit two very different vineyards near Nice, one family-run and one more upscale. Get a tour of the grounds and the cellar, and learn about the production of the wines, from grapes all the way to the finished product.
Enjoy tasting a variety of wines, plus a selection of Provincial cheese, olives, and desserts.
This intimate experience is perfect for anyone wanting a relaxing and idyllic day in the countryside of France.
Other Practical Information for Visiting Nice
How Many Days Do You Need in Nice
I think 2 days in Nice is the perfect amount of time to see the city, and then I'd plan another 1-3 days for day tours around Nice. There's so much to see in the area!
What Are The Best Things to Do in the City of Nice Itself?
I have a post dedicated to the absolute best and unique things to do in Nice – there's a full 20 great things to see and do on this list!
How Do You Get to Nice?
Nice has an international airport (NCE airport code) and is also very well-connected to the rest of France and Europe by train. It is very easy to arrive in Nice with either of these options.
Where Should I Stay in Nice?
I have a full post with an in-depth breakdown of best neighborhoods in Nice for different types of travelers, and best hotels in each of these neighborhoods. You can read that post here!
However, if you want just my top TOP recommendations, these are my favorite hotels in Nice: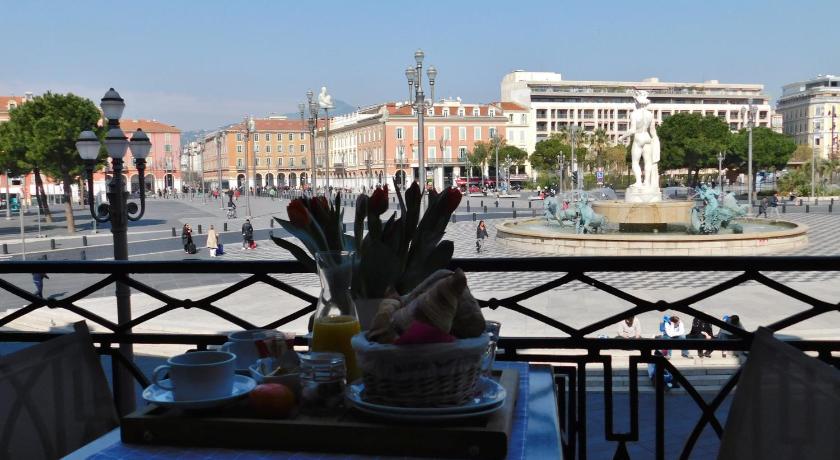 ($) Hotel de la Mer: Located right on Place Massena, this hotel has stylish, comfortable rooms and friendly staff, and is steps from several big attractions in Nice.
⭐Rating: 8 of 10 stars – read reviews here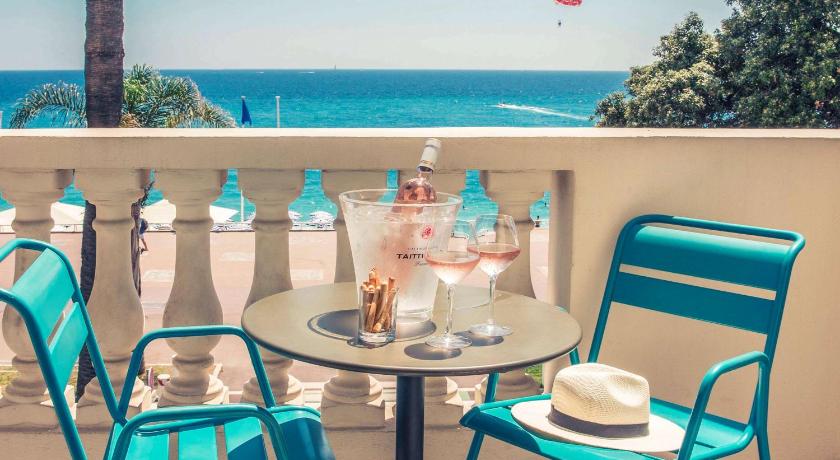 ($$) Mercure Nice Marché aux Fleurs: Near the flower market, and facing the sea, this hotel delivers on location and beautiful views.
⭐Rating: 7.6 of 10 stars-read reviews here

($$$) Hotel Le Negresco: This is THE most famous hotel in Nice, and it absolutely delivers on the hype. It's almost like staying in a museum, with the beautiful art, decor, architecture, and design throughout the main areas and the guest rooms.
⭐Rating: 9.1 of 10 stars-read reviews here

If you prefer a home rental, these are 2 incredible apartmentsin Nice:
($ Vacation Home)View of the Port Apartment: This apartment is newly renovated in a historic building, with some touches of old world charm mixed with modern amenities. The real draw for this location, though, is the view – a stunning vista over the port from every window in the flat! 👉Book on VRBO here

($$ Vacation Home) Beautiful, Spacious Garden View Flat: This is really the French apartment of my dreams – it has parquet hardwood floors, a French style fireplace, gilded mirrors, decorative molding, full length windows, and a garden overlook in the Jean-Medecin neighborhood. 👉Book on VRBO here
Final Thoughts on the Best Nice Wine Tours
If you're looking for a fun wine tour to do while in Nice, there'll certainly be something on this list for you! Salut!
Check Out My Other Nice Posts:
Pin for Later!