9 Best Hotels in Colmar, France (Where to Stay in Colmar)
Trying to find the best hotels in Colmar for your upcoming trip? I've rounded up the best in the city here!
Colmar, France is one of the most charming, adorable, fairy tale villages I've ever had the privilege of visiting. If you're planning a visit to Colmar, you are in for a treat!
Of course, choosing where to stay in Colmar can be one of the trickiest parts of planning your trip – where are the good spots and which hotels are the best?
I've got you covered! In this post I'm breaking down the best hotels in Colmar in 7 different categories!
This post contains affiliate links. When you buy through these links, I may earn a small commission at no additional cost to you. These commissions help keep this site running. Thank you so much for your support!
9 Best Hotels in Colmar
In the following sections, I share my tops hotel picks in the following categories: best value hotel, most historic hotel, best hotel in the Petite Venise neighborhood, most upscale hotel, best hotel for families, most modern hotel, and best apartment rentals.
Let's jump in!
1. Most Upscale Hotel in Colmar:
L'Esquisse Hotel & Spa
⭐Rating: 9 out of 10 stars – read all reviews here
Located right on the edge of Old Town and just adjacent to the Parc de Champs de Mars, the 5 star l'Esquisse Hotel and Spa will surely be a luxurious retreat after a day exploring the town.
All the rooms are designed with high comfort, attention to detail, and understated elegance in mind. Many rooms overlook the park and you can enjoy the views from your windows or balcony (in some of the rooms).
Enjoy the on-site gastronomical restaurant and the on-site pool and spa. This chic hotel delivers in upscale ambiance and service during your stay in Colmar.
2. Best Value Hotel in Colmar:
The Colmar Hotel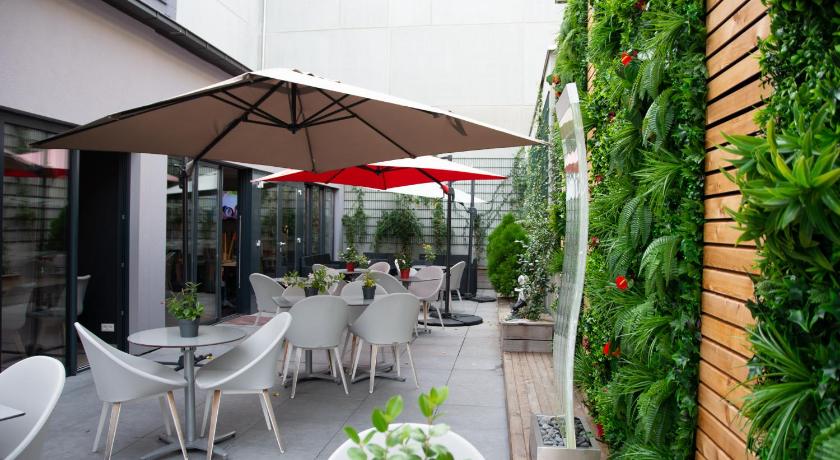 ⭐Rating: 9 out of 10 stars – read all reviews here
The Colmar Hotel is a great value and high quality budget hotel, situated just outside the city center. It offers clean and comfortable rooms and facilities, and is a short, 10 minute walk from Old Town, while also not being far from the train station.
The cherry on top is that the Colmar Hotel offers both free parking and free breakfast (very unusual for France!)
Other good budget hotels: Paul and Pia Hotel, and Hotel Saint-Martin
3. Most Historic Hotel in Colmar:
Hotel Le Maréchal
⭐Rating: 8.6 out of 10 stars – read all reviews here
The Hotel Le Maréchal is a truly incredible historic hotel full of old world charm. Enjoy features like exposed beams and stone walls, and decor choices that make you feel like you stepped back in time by a few hundred years.
(I'm particularly in love with the Deluxe Room with Four Poster Bed and the Deluxe King Room 😍) And bonus – there's a fantastic on-site restaurant and you're in a very central location.
If you want to extend the fairy-tale like atmosphere of Colmar to where you stay, this is the hotel for you.
4. Best Hotel in Le Petite Venise Neighborhood:
Le Colombier
⭐Rating: 8.3 out of 10 stars – read all reviews here
Le Colombier is located in the Petite Venise neighborhood, which is arguably the most adorable area of Colmar. This neighborhood has a little canal running through it and colorful buildings lining the street.
Le Colombier is steps from the canal and located in an enchanting historic building, complete with exposed beams and inset windows in guest rooms. There's also an on-site sauna and small courtyard within the hotel to relax.
5. Best Hotel for Families:
Hotel Restaurant Le Maréchal – Les Collectionneurs
⭐Rating: 8.6 out of 10 stars – read all reviews here
I featured this hotel earlier, but the Hotel Restaurant Le Maréchal – Les Collectionneurs is also the best hotel in Colmar for families thanks to their well-designed family rooms. You can opt for a 2 bedroom suite (over 600 sq feet) that has a room with a queen and another room with two twins.
Or, go for the triple room, which has one queen and 1 twin bed in the same room and is 431 square feet (both of these very spacious for France!)
The central location of the hotel, plus the excellent breakfast and on-site restaurant, the beautiful décor, and the very reasonable price make this a very convenient hotel to stay at with your family.
6. Best Modern Hotel in Colmar:
Hotel Quatorze
⭐Rating: 8.4 out of 10 stars – read all reviews here
The Hotel Quatorze is a sleek, modern, boutique hotel in the heart of Colmar's Old Town. It offers comfortable bedding, an on-site bar, mid-range pricing, and is within easy walking distance of all the sites in Colmar.
7-9: Best Rental Apartments in Colmar:
The Cosy and You Apartment: This quaint little apartment is on the south end of town, near Petite Venise. The host is very easy to communicate with, provides you with a parking pass, and there's a bakery just next door.
Mademoiselle 17 Blvd Champs du Mars: The perfect place if you are traveling with little children, this apartment offers over 500 square feet, a pack and play, bunk beds, toys, and a desk for kids. You'll also enjoy the full kitchen and central location.
Hello Colmar Apartment: Traveling with a larger group or just want some extra space? This apartment has almost 1200 square feet of space, 3 bedrooms, and beds for up to 8 people. The flat is beautiful, comfortable, and has everything you need for your stay in Colmar.
Practical Information for Visiting Colmar, France
How Many Days Do You Need in Colmar?
Colmar isn't that big, so you can see the town in one day. Plan for two days if you want time to explore the surrounding countryside, or just want to spend more leisurely time in the most charming village in France.
Does Colmar Have a Christmas Market?
Yes! And unsurprisingly, the Colmar Christmas Market is amazing. Read my very detailed guide to the Colmar Christmas Market here!
How Do You Get to Colmar?
As Colmar is right on the edge of France and Germany, it's very well-connected to many areas in Europe. You can drive in (roads in France are well-maintained and driving is straightforward) or take the train.
Final Thoughts on Where to Stay in Colmar
The great thing about trying to decide where to stay in Colmar is that there is a wide variety of hotels to satisfy any kind of traveler, even though Colmar itself is a fairly small town. You really can't go wrong with any of the choices listed above!
Pin for Later!