An Epic 10 Day Morocco Itinerary [2023]
Looking for the best 10 day Morocco itinerary? Read on for all the best stops and things to see!
I had high hopes for our trip to Morocco. I had seen pictures of epic desert landscapes, the red streets and intricate tiles of Marrakech, the soaring minaret of the mosques, the hustle and bustle of souks. It looked like such an interesting, exotic destination.
But, would Morroco live up to expectations?
Well, we spent ten days traveling around Morocco, spending time in 7 different locations. We gaped at the handcarved stucco and cedarwood and ate succulent tagine.
We chatted with the locals and tried our best at haggling for goods. We watched donkeys walk down the streets and marveled at the intricate, ornate gates in Fes. We went weak in the knees for a city painted entirely blue.
Morocco exceeded our expectations.
The foreign-ness of everything we encountered was so exciting. It was a thrill to think "we are in AFRICA."
This Morocco Itinerary
Following this 10 day Morocco travel itinerary will take you to the highlights of Morocco, with a wide variety of landscapes and experiences! At the end, I'll tell you what we would've added and where we would've spent more time if we had had a full two weeks instead of 10 days. All prices listed are "per person".
Route for Your Morocco 10 Day Itinerary
This is the best Morocco trip itinerary if you want a wide range of experiences – cities, desert, small towns, hikes, fortified cities, and towns painted a single, striking color. Here's the route you will follow:
Destinations:
Casablanca
Marrakech
Ait Ben Haddou
Dades Valley
Merzouga/Sahara Desert
Fes
Chefchaouen
This post contains affiliate links. When you buy through these links, I may earn a small commission at no additional cost to you. These commissions help keep this site running. Thank you so much for your support!
Morocco Itinerary Day 1: Casablanca and Marrakech
Arrive at Mohammed V International Airport in Casablanca. You'll only be spending part of the day in Casablanca and then heading down to Marrakech.
To start, take a taxi into the city, to Melliber ApartHotel. Taxis are a fixed rate of 300 dirhams between the airport and the city.
Bag Drop Off
You won't be staying at the Melliber ApartHotel, but it is located just a couple blocks away from the famous Hassan II Mosque, and they very graciously allowed us to store our bags there free of charge for a few hours while touring the city. Come in, ask politely, and they should honor your request.
Hassan II Mosque
After dropping your bags off, head to the Hassan II Mosque. This is the only mosque that non-Muslims are allowed to enter in Morocco, all others are off limits.
Entry to the mosque is only available via a guided tour, which starts at 9am, 10am, 11am, and 3pm. Do double check the current tour times before you go, as they do change throughout the year (and there are sometimes extra afternoon tours as well).
The tour of the mosque was just insanely impressive. First, there is a massive outdoor courtyard around the mosque for people to mingle. The mosque and minaret itself were so grand, they dominated even the sprawling courtyard and its beauty drew the eye the entire time you crossed the open space.
Fun Fact: The Hassan II Mosque is the 7th largest mosque in the world, with the 3rd tallest minaret!
Upon entering the mosque, you remove your shoes and step into the huge room with soaring ceilings. Hand carved stucco and cedarwood adorned the the columns, the arches, the ceilings – essentially every surface! As you explore the room on the guided tour, you'll notice a central water feature in the floor, and views towards the sea.
We learned from the tour guide that it took only 6 years to build the mosque, and that during Ramadan, there are over 100,000 worshippers attending the mosque and surrounding courtyard at a time. The roof is retractable to help with air circulation, to remind worshippers that prayers are going straight to God, and to illuminate the interior, which glows beautifully in the sunlight.
Hours: Tours are generally at 9am, 10am, 11am, and 3pm
Cost: 130 dirham ($13)
Promenade
After the tour (which lasts about 45 minutes), you can walk the promenade that extends from the mosque along the coast. The mosque sits right on the ocean, so you get a great view of the sea and the mosque as you stroll along.
Other Casablanca Options
While this Morocco itinerary has you going from the mosque/promenade to the train station, if you do want to extend your stay in Casablanca by a few hours or even a full day, these are some other things to do in Casablanca:
Visit the Old Medina: This walled historic quarter is a classic Moroccan medina, where winding passages, souks, and restaurants abound.
Admire Cathedrale Sacre-Coeur: This cathedral is very new, being designed in the 1930's, and incorporates traditional Moroccan architectural design (e.g. minarets). It was used as a church, then as a school, and today it hosts exhibitions.
Stroll La Corniche: La Corniche is the area of town right along the coast, with a wide boulevard extending right along the sea. It's worth a stroll!
Marché Centrale: The main market of the city. Come to get a bite to eat, haggle for some souvenirs, or just wander around admiring all the colorful goods.
Visit Rick's Cafe: This cafe is designed to recreate the piano bar in the famous old movie, "Casablanca," with many architectural details and decor items that hearken back to the movie.
When you're done exploring, head back to the Melliber hotel to collect your bags (we offered to pay for them holding it, and though they declined, I think that's the right thing to do) and then take a taxi to the Casa Voyageurs train station.
It's about 15 minutes by taxi and a fair price for this ride is about 20-30 dirhams (always haggle the cost of the taxi before you get in the car!).
While your stop in Casablanca in this 10 day Morocco itinerary is rather short, the chance to visit this extraordinary mosque makes the stopover HIGHLY worth the time and effort.
Train via the Casa Voyageurs station
You can't buy tickets for the train online beforehand, and the lines can be a little long, so plan to get to the station at least 30-40 minutes ahead of departure time. This is the schedule for the train.
Tickets from Casablanca to Marrakech cost about 150 dirham ($15).
The train ride from Casablanca takes about 2.5 hours. At the Marrakech train station, grab another taxi (there are a lot right outside) and get a ride to your riad. Expect to pay about 20-40 dirham for the ride ($2-4), depending on how far you're going and how well you can haggle.
Check into Your Riad
A riad is a traditional guesthouse in Morocco – there is almost always an open air courtyard, a rooftop where you can relax and look over the city, and usually has just a few rooms, so it has a very intimate feeling.
A riad is a cultural experience in its own right, so staying in a riad when visiting Morocco is a must! Click here to read my full breakdown of where to stay in Marrakech, including best areas and riads.
However, if you just want the highlights, these are my top Marrakech riad recommendations:
($) Riad dar Palmyra: This charming riad has delightfully cozy rooms, a peaceful garden courtyard, the smell of jasmine in the air, a large breakfast spread, and was well-situated near several major attractions in Marrakech, all for a very inexpensive price.
($$) Riad Tahyra: This riad almost seems part garden, with plants and greenery abounding in the courtyard. The rooms (especially the doors) are lovely, and the carved stucco that decorates the area is beautiful. The location is perfect – squarely in the heart of the medina – and the staff go out of their way to be helpful and welcoming.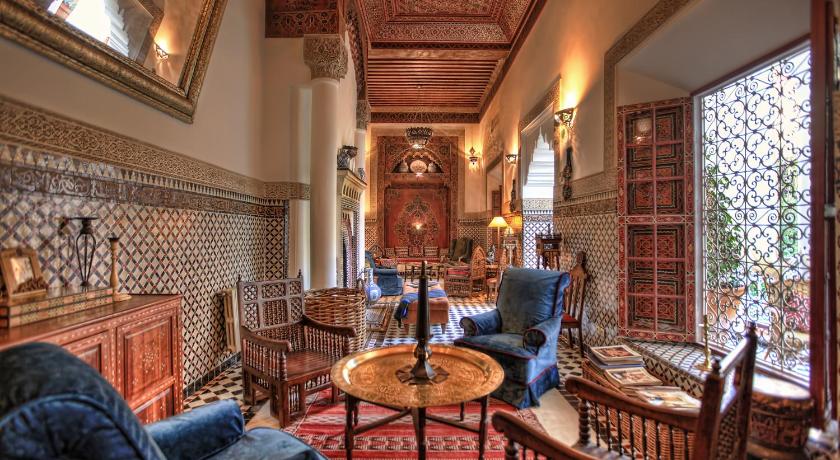 ($$$) Riad Kaiss: With mosaic lined paths through trees and greenery to a centrally located fountain in the courtyard, a really expansive rooftop terrace, and an on-site hamman, this is a luxury oasis in Marrakech.
Dinner: Café Kif Kif
Café Kif Kif looks over the Koutoubia mosque, and is not too far from the riad – making it a perfect choice for your first night in Marrakech. Ask for a table on the rooftop terrace!
For your first dinner it's hard to go wrong with a tagine, but we particularly liked the briouates at Café Kif Kif and the mint lemonade.
Check out this post for a full breakdown of what foods to try in Morocco.
Morocco Itinerary Day 2: Marrakech
Start your first full day in Marrakech with a breakfast spread at your riad – it will be delicious! – and prepare for some amazing sights.
Saadian Tombs
The Saadian Tombs are an easy 10 minute walk from the riad.
The tombs were constructed by the Saadian Sultan Ahmad Al Mansour in the early 1600's to bury him, his son, and his immediate successors.
The attraction as a whole is not huge, but the tombs themselves were incredible! There were tiles on the floor, and intricate carved stucco arches and carved cedarwood all around.
The first and main burial area is a series of three rooms: The Mirhab room, the Room of 12 Columns, and the Room of 3 Niches. You can look into each room via a door opening, but you can't walk around inside. Which makes sense — these are graves after all!
There often aren't too many people around and the area had some gardens – it is lovely!
Hours: 9am-4:30pm
Cost: 70 dirham ($7)
Lunch: Café Dar Touareg
Stop by the nearby Cafe Dar Touareg – the rooftop terrace is colorful and the food is delicious. I recommend the skewers with rice here!
Afternoon: El Badii Palace
This complex is the ruins of an old 1500's palace of the Saadian sultans and is a fascinating area. There are some rooms you can walk into and explore, but there are also vast courtyards to wander.
You can peek into the throne room, and even descend into the dungeons that have displays of old shackles and cells. Some parts of the palace are fairly well excavated and preserved, while others are more in ruins – there's a lot of fun variety!
Hours: 9am-5pm
Cost: 70 dirham ($7)
Musée Dar El Bacha
For this next stop, you may want to grab a quick taxi up (15-20 dirhams), otherwise know it's about a half hour walk. If you're itching to get into the heart of the old Medina, this is a chance to wander its streets.
This museum is fairly small and is much less popular, which means there aren't a ton of people around! The building itself used to be a private palace, and the tilework is gorgeous. The main courtyard has trees and a fountain, and several little rooms to wander into.
The rooms hold temporary exhibits (when we were there, the exhibits centered around Jewish and Berber artifacts). There is also a cafe with gourmet coffee on the premises.
Bonus – photoshoot location!
This museum was the location of a professional photoshoot we did! We like to book a local photographer for a 1 hour shoot when we visit new countries and the backdrop of the museum for our pictures was perfect! I would highly recommend booking a photoshoot when traveling – I love having beautiful pictures of us in unique locations in different countries around the world.
This is the Instagram handle of our photographer – he was wonderful to work with! The cost for a one hour shoot was $200.
However, even if you aren't taking pictures, I would still recommend a visit to Dar Bacha – the rooms were absolutely stunning and uncrowded.
Hours: 10am-6pm
Cost: 70 dirhams
Day 3: Marrakech
Morning: Bahia Palace
This attraction is very popular; be there right at opening (9am) for the fewest crowds.
This palace was very expansive, and in contrast to the El Badii Palace ruins, is still in the height of its splendor. There are a lot of rooms you walk through, from smaller private rooms, to grand courtyards, to beautiful garden rooms.
This is one of the most visited attractions in the country, and I can see why! The grand courtyard is, well, grand.
We also found the abundant stained glass to be enchanting, and a unique feature among Moroccan architecture.
Hours: 9am-4:45pm
Cost: 70 dirhams ($7)
Jemaa el-Fnaa
This is the biggest market square in the city and it is hopping. Huge crowds, numerous stalls, merchants sitting on rugs, street performers, monkeys and snakes, and a cacophony of sound and scent as spices and calls fill the air.
There are all sorts of vendors set up – from fruit and vegetables, juices, meats, meals, henna, and numerous knick knacks and souvenirs. There is a lot going on here!
Personally, Jemaa el-Fnaa was not our favorite spot and we only passed through it on our way to something else once or twice. It felt extra pushy and touristy, and we had read that food safety techniques are dubious at many of the food stalls, so we just overall felt wary.
We did get a flavorful fruit smoothie, though!
However, as it's a big spot in the city, you have to at least walk through – just don't let any ladies put henna on your arm as a "gift" (it's not) and if you choose to eat, keep an eye on the food preparation.
Lunch: Cuisine de Terroir
I can't not mention the fan on the rooftop terrace – the day we dined here the weather was particularly hot and that fan felt amazing!
Beyond that aspect, the food here was good and fresh. Matthew particularly liked the shawarma sandwich, and the Moroccan desserts were yummy. The owner was also really kind and even showed us the kitchens!
Afternoon: Explore the Souks and Shop
While Jemaa el-Fnaa wasn't our favorite, we enjoyed the other souks around the city! Souks are a general term for "market" and there are so many beautiful goods for sale in Morocco. Souk Semmarine is a popular and very acitve souk near Jemaa el-Fnaa – head there after you're done in the main square.
Read More: Best souvenirs from Morocco to bring home (plus our best tips for haggling!)
Mid-afternoon: Local Experience
I highly recommend doing a small group experience with a local while you're in Marrakech! There are a vast number of interesting and meaningful experiences you can have here, and being able to do something a little bit off the beaten path and get to interact with a Moroccan is really meaningful.
Here are 4 excellent options:
Authentic Cooking Class Experience: Meet a local woman at a small neighborhood market to buy produce and meat together, then head to her home, where you'll brew and sip fresh mint tea, and together create one of the most delicous and authentic meals you'll ever have the pleasure of eating in Morocco.

Food and Market Tour: If you not into cooking but love the idea of a personalized food experience, then do this Food and Market Tour through Jemaa el-Fnaa. A guide will take you through the stalls, as you sample different traditional Moroccan dishes and treats, and showing you all the best spots!

Henna Discovery Experience: Getting henna is a popular thing to do in Marrakech, and this intimate experience takes henna to the next level. Meet up with a lovely Moroccan woman in her home, where she'll show you the process of creating henna, the history behind it, and how it's done. You'll be able to get an intricate henna design on your body, and then have the chance to create and apply your own designs, if you wish!

Shopping the Souks Private Guide: If the thought of shopping in Marrakech feels a little overwhelming, consider hiring this knowledge guide to lead you through the best shops in Marrakech, show you how different handicrafts are made, and give you advice on the best things to buy and what to pay, in a hassle-free experience.
We chose to do the cooking class, and I can say it was one of the best afternoons we had in Morocco. We met Najlae at the market, where we chose our menu (we decided on lamb tagine with apricots and prunes) and bought lamb, herbs, fruits, and vegetables that we would need for our meal.
After making our purchases, we went back to her home where we sat down, chatted, ate cookies, and watched as Najlae walked us through the steps of preparing traditional mint tea.
Then we got cooking! Najlae had a table set up where we all worked together to prep the lamb tagine and four different Moroccan salads.
She struck a great balance between teaching us what to do and giving us plenty of participation in prepping the meal and taking the lead for some segments to give us some time to interact with our fellow participants.
And then, we feasted! This was easily, hands-down, the best meal we ate in Morocco. The lamb was insanely tender and flavorful and the salads were absolutely delicious. We loved chatting with her and the other couple at the cooking class – we learned more about Moroccan culture, Najlae's life and experiences, and just had the best time hanging out.
I cannot recommend this cooking class enough! Book this class here.
Morocco Itinerary Day 4: Marrakech
Medersa Ben Youssef
The Medersa Ben Youssef is an old Islamic school that dates back to the 1500's. It used to be the biggest school in Morocco, teaching theology, science, literature, and history.
Today, it is solely a tourist site. As you enter the medersa, you first come to this large courtyard, with stunning tile mosaics, arches, and a reflecting pool. Through the big archway is the prayer hall.
Around the courtyard and up on the higher levels are student dormitories, which you can explore.
Jardin Majorelle
This Jardin Majorelle is unique compared to other places you'll visit in Marrakech – it's bigger and has more pathways, there are less tiles and mosaics, and, strikingly, the walls are painted a bright blue, with yellow accents throughout.
The garden was designed and developed by the artist Jacques Majorelle in the first half of the 1900's, and then bought by the designer Yves Saint-Laurent and Pierre Berge. They revitalized the gardens and turned the villa into a museum, which today houses the Berber Museum and the Yves Saint-Laurent museum.
Hours: 9am-6pm
Cost: 120 dirhams ($12)
Lunch: Jardin Majorelle café
The food is good, but the drinks are out of this world. The avocado, date, almond, and milk smoothie was smooth and thick and delicious, but the date, orange blossom, and milk drink was to die for! I could bathe in that drink. The prices were higher here than most restaurants in Marrakech.
Jardin Secret
The Jardin Secret is much less busy, but still boasts beautiful plants, pathways, and a gorgeous gazebo. You enter in by the Exotic garden, which has cactus and other exotic plants, and then can make your way over to the Moroccan garden, with pathways, gazebo, arches, and olive trees. Both are lovely, but the Moroccan area is really where you'll spend your time here.
Hours: 9am-7:30pm (or 6pm, depending on the season)
Cost: 80 dirhams
Hammam Spa
Hammams are the name for the bathhouses in Morocco. Bathing in a hammam is a traditional part of Moroccan life for men and women (the hammans are separated by gender, of course).
If you want to visit a traditional hamman where you bathe with locals, ask your riad for a recommendation.
However, if you want a more luxurious, spa experience, this hamman is the perfect option!

For two hours, you'll enjoy a soothing hamman bath argan oil, plus a body scrub and massage. This is the perfect way to spend an relaxing afternoon after exploring the noisy streets of Marrakech.
Dinner: Kasbah Cafe
This cafe overlooks the square around the Saadian tombs, which is a big hangout spot for families and friends in the evening. If you can get a table on the edge, you will enjoy some great people-watching!
I can particularly recommend the pizza here (we had eaten a lot of tagine at that point and the pizza looked interesting!). We got the chicken pizza – it was thin crusted and had some Moroccan spices/flavorings on it. So good!
Day 5: Ait Ben Haddou
This morning you leave Marrakech! Grab a taxi to the airport, where you'll pick up your rental car. Make sure you print your voucher at home and bring it with you – you'll need a hard copy to pick up your car.
Note that if you are dropping off your car in another location (as this travel itinerary has you do), you will likely have to pay a one-way fee at pickup. For Europcar, that fee was 700 MAD ($70). We felt that the convenience of not having to backtrack was well worth that cost.
Pro Tip: We liked renting through Europcar via RentalCars.com – we've found that they consistently have the best prices and availability for car rentals.

>>BOOK YOUR MOROCCO RENTAL CAR HERE
After doing your spot check of the car, hit the road! By now you've had experience riding in taxis and walking the streets and know just how crazy Morocco roads can be. Driving in Morocco was indeed hair-raising at times, but mostly in the cities– people kind of drive wherever they want and pedestrians are everywhere.
To prepare, definitely check out our post about driving in Morocco – we cover all the things to know about and be aware of when undertaking a Moroccan road trip.
It took us about 4 hours to reach Ait Ben Haddou (or Aït Benhaddou) from Marrakech, which included one 15 minute stop to use the bathroom and buy some water.
Prefer not to drive yourself through Morocco? No worries – this 4 day Sahara desert tour from Marrakech to Fes follows a very similar itinerary to what we did on our own.
Lunch: Maison de Sable
We chose this restaurant at random on the main road in Ait Ben Haddou, but I was exceptionally pleased with lunch: it was very cheap, and very delicious. I recommend the kefta tagine!
There are several free parking areas just on the side of the main road through town. Park, then walk north through the village until you find the bridge that crosses over to the ancient fortified city of Ait Ben Haddou. (Or you can make your way through the village buildings down to the river bed and cross over the river. This can only be done when the river is low or dried up.)
Ksar Ait Ben Haddou
Ait Ben Haddou is an excellent example of a ksar, a fortified city or village.
You may hear Ait Ben Haddou referred to as a kasbah, but this isn't completely accurate. A kasbah is a large, fortress-like house with four towers at each corner. And Ait Ben Haddou does have several kasbahs, but the city itself is a ksar.
Since the 11th century, the city used to be a stop on the silk road, and caravans would pass by on their journey . The city needed to be fortified so it couldn't be attacked by robbers and bandits.
In those times, 150 families used to live in the city, but today only 5 remain. As such, Ait Ben Haddou is mainly an attraction and did feel a little touristy, but was absolutely still worth the visit.
You can see old structures, like the kasbah, or the synogogue, or the granary. There are still functioning olive and date groves on the premises as well. You may pass men working on making new bricks for the houses out of mud and straw – and old technique that has persisted until today.
Another cool aspect of Ait Ben Haddou is that many big name shows and movies have been filmed at Ait Ben Haddou, including Gladiator, Alexander, Prince of Persia, The Mummy, and Game of Thrones.
When these movies are filming, the people in the village get to be the extras! The guys we talked to were pretty stoked to show us their pictures in costume, or the prop sword they got to keep from being in Gladiator. (I mean, it IS pretty cool)
Best Viewpoint Location
The best viewpoint for Ait Ben Haddou was a little hill just opposite the fortified city. The path to the top starts by where the Gladiator arena used to be (it was built for the show and deconstructed afterwards).
There is a great vantage point at the top for pictures (the picture under the heading for Ait Ben Haddou was taken here).
Overall, Ait Ben Haddou was a great experience, very unique, and definitely worth a visit.
A few things to note about Ait Ben Haddou:
There were people out offering services as guides, and this was the one time in Morocco that we chose to have a guide – I just wanted to hear more of the history of the place! We did get a lot of interesting facts and got a tour of his house, and how everything worked.
A fair price for a guide here is around 30-50 dirhams (we realized we massively overpaid at 100 dirhams after the fact).
Also of note, many items for sale in Ait Ben Haddou were cheaper than similar goods in Marrakech – so it may be worth waiting and buying some items like clothing, rugs, lamps, teapots, or scarves here (we didn't see many leather goods or ceramics here though)
Where to Stay Tonight
I would recommend one of two options for where to stay on day 5 of your Morocco itinerary.
Option 1: Stay at the only riad in the the old fortified city of Ait Ben Haddou, at Kasbah El Hajja. This is a really fun experience to stay in the ksar after all the rest of the tourists leave, and the riad boasts incredible terraces with views over the ksar, lovely decorated common rooms, and beautiful guest rooms.
Option 2: Press on another 2 hours and stay in the village of Tamellalt, in the Dades Valley. pressing on another ∼2 hours and spend the night at the TAFSUT guesthouse, a colorful, cozy, little guesthouse with absolutely stunning mountain views in the Dades Gorge.
We drove to the Dades Gorge to stay the night, and the views were stunning! Breakfast here was incredible, and the owners went above and beyond to help us when we arrived. It was the perfect place to stay!
>> Book the TAFSUT Guesthouse here!
Morocco Itinerary Day 6: Dades to Sahara
Today, you will spend the morning in the Dades Gorge, drive to Merzouga, and spend the night in the Sahara.
Morning: Monkey Fingers hike in the Dades Gorge
The Monkey Fingers are named for the rock formations that look impressively like knuckles in certain spots! The hike takes you inside a canyon, where the rocks are sometimes smoother, and sometimes the path narrows into a slot canyon.
Check out this post for all the details about hiking the Monkey Fingers!
This hike is a total stunner – I'd definitely recommend you take the time to explore the Dades Valley a little bit in the morning. We wish there would have been room in our 10 day Morocco itinerary to spend even longer enjoying the beauty of this area – I would add a full day in the Dades Gorge to a Morocco itinerary in a heartbeat.
This is for sure an off the beaten path spot in Morocco, and it is absolutely lovely.
Dades Switchback:
10 minutes up the road from the Monkey Fingers hike brings you to the famous switchback section of the Dades gorge. The view from the top is really something!
The best view is from the patio of this restaurant at the top of this gorge (the picture, below, is what the restaurant looks like, but you can't miss it!). You can go inside to look at the view, but you will have to buy something (and it will be overpriced – we just bought some water bottles).
It's a quick stop, but for sure worth it if you are in the region anyway.
Lunch at Cafe Michele
Cafe Michele, a French-Moroccan restaurant in Tinghir has an absolutely stunning dining room, good food and free (strong!) wifi. The downstairs dining room is the French part of the restaurant, with French decor and cuisine, whereas the top was Moroccan decor and cuisine. I recommend the kefta tagine!
Tinghir is also where we had to stop to get gas for the first time. Note: Don't plan to pump your own gas – all gas stations use attendants. Also, most are cash only.
Late Afternoon: Arrive in Merzouga and the Sahara Desert
The next two nights are going to be an epic, bucket list adventure – glamping in the Sahara! The next two days are going to be an unforgettable adventure, staying in a desert luxury camp in the dunes of the Sahara.
Read More: My Full, Detailed Description of What It's Like to Stay at a Luxury Desert Camp in the Sahara
Of everything on this 10 day Morocco itinerary, this was the experience I was most excited for. Seeing the dunes rising up from the distance, and knowing, "THAT IS THE SAHARA" was unbelievable and a pinch me moment for sure!
The town of Merzouga is right on the edge of the Sahara sand dunes. These dunes are known as Erg Chebbi.
You will meet your guides for the desert at a hotel in town. We did our stay with Desert Heart Luxury Camp, and I can't recommend them enough.
Arriving at your Luxury Desert Camp
After you arrive at camp by camel, you are welcomed you with mint tea – you can choose a little table set up in the sand to relax at while you sip tea and soak in the view.
Then get acquainted with your luxury tent:
You have a beautiful bed on a metal frame, several windows you can open and close, and a full bathroom, with running water, flushing toilets, and a shower.
In addition, there are electric lights and outlets in the tent, and actually really good wifi in the camp! The floors are covered with colorful Berber rugs and the whole setup is incredibly inviting and cozy.
>>Check prices for Desert Heart Luxury Camp here
Dinner is a 4 course affair (salads/vegetables, soup, tagine, dessert), and then after dinner, the men will make a fire and play Berber music around the fire. Sitting on rugs around a campfire in the dunes of the Sahara, under the stars was a truly memorable moment.
At night, you must go out into the dunes to watch the stars!
Morocco Itinerary Day 7: Sahara
This is one of my biggest pro tips for your Morocco itinerary: Stay 2 nights in the Sahara!
Most people just stay one night in the Sahara, but I really think two nights gives you such a better experience! It takes almost 9 hours to drive there from Marrakech, and with one night it feels like you leave almost as soon as you get there.
I'm glad we did the two nights in the Sahara as part of our 10 days in Morocco, and I would highly recommend you do too.
The full day we had at camp was super chill – we woke up before sunrise to ride camels and watch the sunrise from a high dune.
Then we took a nap, took pictures in the dunes, went sandboarding (sandboards are provided free of charge), did an ATV tour of the dunes, relaxed, chatted with the Berber men, and generally just had a laidback, good time.
We had THE BEST experience at this camp, and it was incredibly affordable as well. I just highly, highly recommend booking Desert Heart Luxury Camp for your Sahara adventure!
Day 8: Merzouga to Fes
Wake up in the desert, and when you're ready, you go back into town by Jeep. Cruising across the dunes was super fun!
From Merzouga, begin the 7 hour drive to Fes – you should arrive mid to late afternoon.
Arriving in Fes
When in Fes, you absolutely must stay at Riad Sara, a palatial, jaw-droppingly gorgeous, and yet surprisingly inexpensive riad. The pictures are beautiful, but they don't do it justice for just how stunning everything was in real life. I legit felt like a QUEEN staying in this riad.
Plus the service was absolutely top notch – the staff gave us helpful information about the city, and even packaged up a to-go bag of breakfast items for us the morning we had to leave super early.
>>Click here to book Riad Sara
Tip: You can park at the parking garage across from the Cafe Granada, which is 30 dirham ($3) per day, and is right around the corner from Riad Sara.
Other options for gorgeous (and shockingly budget-friendly) riads in Fes:
Riad Damia: This riad offers both regular rooms and suites, depending on your party size and space needs. There almost isn't a square inch not covered in beautiful mosaics and Moroccan decoration.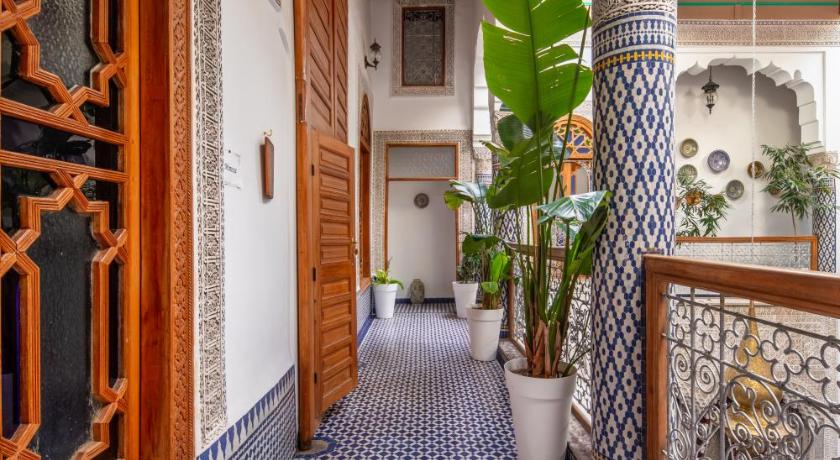 Riad Fes Nass Zmane: A stunning interior of tile mosaics, arches and columns, and heavy draped fabrics and a beautiful rooftop terrace. Plus, the central location can't be beat.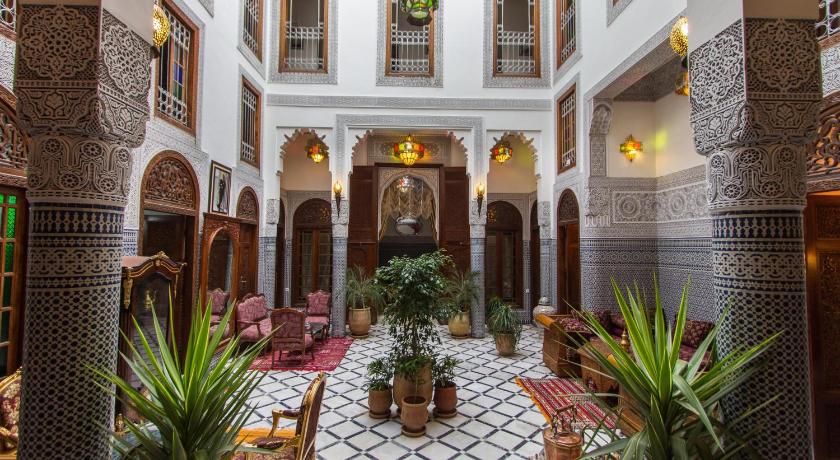 Riad Tahra & Spa: Riad Tahra offers the same types of beautiful tiled mosaics in the courtyard, but with extra plants and greenery throughout. You'll enjoy close proximity to the sites of the medina, a delicious breakfast, and an on-site hamman at Riad Tahra.
>>Book Riad Tahra here!
Dinner: I recommend Cafe Clock – a fun, hip cafe that serves camel burgers!
Alternate Option for Days 5-8:
If you like this itinerary but don't want to drive yourself, there are many great tour options running the Marrakech-Merzouga-Fes route. I think this Marrakech to Merzouga to Fes tour is one of the best options that will give you a very similar experience to what I've outlined in this itinerary:
>> Book this 4 Day Desert Tour from Marrakech to Fes via Merzouga Sahara here
Morocco Itinerary Day 9: Fes
Fes had a distinctly different feel than other cities you'll visit during your 10 day Morocco itinerary – unlike Marrakech, the walls of the city were beige, not red, the streets of the medina were a little narrower, the whole medina is a car-free zone, and the area felt just a little more organic.
Plus, the doors and gates in Fes were seriously the best of any spot in Morocco! This brings us to your first stop of the day, which is…
The Blue Gate
This grand gate welcomes visitors to the medina of Fes. It's official name is La Grande Porte Bab Boujeloud.
As you may notice, in the picture above the gate is actually green! One side of the gate is blue, the color of Fes, which symbolizes its pottery (you'll notice a lot of blue ceramics in the city!), and the other side is green, which is the color of Islam.
Madrasa Al-Attarine
A madrasa is an old school – the atriums were stunningly gorgeous (look at those arches!). You can also climb up into the individual study rooms and dorms above – some of them have little peepholes where you can look down on the atrium.
Hours: 8am-6pm
Cost: 20 dirhams ($2)
Chouara Tanneries
There are two terraces that overlook the Chouara tannery (the main tannery) and the access points for them are very close to each other.
As you approach the area of the city where the tanneries are found, you will encounter *so* many men on the streets trying to be your guide, who will start walking with you (to be your guide and get money), people asking if you need directions, randomly giving directions, or saying that "that way is closed, go this way."
Don't listen to or go with any of them!
Almost everyone who tried to give us directions in Morocco or told us that "it's closed" or "only houses that way" or "go this way to ____" was lying to us! Almost every time!
You do not need a guide to visit or find the tanneries — it was actually pretty easy to find.
We read a lot of articles before coming to Fes saying that your navigation and maps won't be accurate in the medina or that you will still get lost or that it's really hard to find the tanneries. We did not find it difficult at all and our Google maps were pretty dang accurate.
If you can follow a map, you can find the tanneries. It is helpful to have GPS turned on, though, so your blue dot actively moves on the map and you can quickly see if you take a wrong turn.
This is where the terrace to view the tanneries is. Just put in "Terrasse de Tannerie 14 et 10" and you'll be good to go.
You'll know when you're there because you'll see this sign:
The Terrace
A visit to the tanneries is really a visit to the terrace that overlooks the tanneries. And a visit to the terrace actually means walking through an expansive leather shop that is a true maze of rooms, with every leather good imaginable to access the terrace.
The terrace visit is free, but of course you have the "opportunity" to buy leather goods on your way out.
There will be a worker out in front ushering you in and offering you a sprig of mint to hold under your nose to ward off the smell.
To be honest, I didn't find the smell all that bad – I mean, it wasn't great by any means, but it was manageable. We were visiting in October, and apparently the smell in the tanneries is worse in the summer. The sprig of mint actually did help a ton!
I had mixed feelings about the terrace. On the one hand, it was super interesting to watch and it is definitely an "iconic" viewpoint in Fes.
On the other hand, the conditions down in the "factory" area looked awful. Men were standing in the wells of liquid that held pigeon poop and limestone in the hot sun, while a bunch of tourists holding mint up to their noses looked down on them. It just felt voyeuristic and a little bit icky, and exploitive.
On the other OTHER hand, the man showing us around did say the workers were paid well (roughly 3 x the average Moroccan wage from our calculations), and attracting people to buy things is good for job security, right?
Anyway, I'm not saying don't go, but it was a mixed bag.
If you want to buy leather goods in Morocco, Fes is the place to do it, and the shops around the tanneries have some amazing wares. Rooms upon rooms upon rooms of all sorts of leather goods. It was really impressive!
We bought a buttery, buttery soft leather jacket for Matthew made of lambskin, a very soft leather wallet, and a leather purse, but I was also super tempted by the leather poofs (you buy them unstuffed so they fit easily in your suitcase).
Lunch: Fondouk Bazaar
This restaurant had a distinctly middle eastern vibe, with a tapas menu that included items like hummus, babaganouch, and aubergine fritters. The entree menu had more traditional Moroccan fare.
I highly recommend the tapas plate with the crispy potatoes and hummus!
Jnan Sbil Gardens
This beautiful garden is a calming oasis in the busy streets of Fes. Come stroll the area, enjoying the walkways and tropical plants.
Hours: 8am-7:30pm, closed Mondays
Cost: Free
Madrasa Bou Inania
This is the other old, famous madrasa in Fes. It has similarities to Madrasa Al Attarine, in that there is a beautiful main courtyard on the main level and individual rooms above. However, Bou Inania once was also a functioning mosque, in addition to a university.
Considering that non-Muslims can only visit the one mosque in Casablanca, it is a unique opportunity to visit a place that was once a mosque.
Hours: 9am-6pm
Cost: 10 dirham ($1)
Shop the Souks
The souks of Fes have a different vibe to them than in Marrakech. While they did have similar types of wares, Fes just felt a little more local, more organic.
Dinner: Cinema Cafe
This cafe was very trendy and cute. I recommend the camel tagine.
One note about Fes: While you will encounter lots of scams and hustles in Morocco, the men trying to scam you on the street were particularly intense in Fes. There were so many guys calling trying to give us (bad) directions, wanting to be our guide, trying to walk with us, etc.
Tip: We do have a whole post dedicated to Moroccan scams and how to avoid them – you'll definitely want to read that before heading to Morocco!
Morocco Itinerary Day 10: Chefchaouen + Tangier Airport
Today you'll fly out of Morocco via the Tangier airport, and make a stop in Chefchaouen on the way. This is one of the most stunning places you'll visit during your 10 days in Morocco.
The uniquely colored city of Chefchaouen is set in the mountains of northern Morocco, about 3 hours north of Fes. What makes it so unusual is every building in the old town is painted varying shades of blue!
The blue is accented by colorful carpets hanging, flowers blooming, rows of spices, flower pots, and mosaics. It is absolutely stunning to walk around!
Chefchaouen is pretty small, and there aren't really "attractions" in the medina – the city itself is the attraction! So with a few hours, you can wander around essentially the entire medina, exploring the little back streets and the more popular, well-known streets.
Local Guide: With only a few hours, you might prefer having a local guide take you on a private tour of Chefchaouen, totally customizable to what you want to see and do. He'll take you to all the best places, hidden spots, and photo spots in Chefchaouen, share history of the city as you go around, and take pictures for you.
Parking: While you can find several parking garages in Chefchaouen (just search parking on your phone), we liked the price, security, and convenience of the secured lot on Rue Aljanah Al Akhdar, called Parking Jour et Nuit.
Finally, drive the last few hours to the Tangier airport, bringing to an end to your 10 day Morocco itinerary, and an incredible journey and experience.
Alternative Driving Option:
If you chose to hire a tour or driver for days 5-8 instead of renting a car and driving yourself, you'll need some way to get up to Chefchaouen and on to Tangier.
For this leg, you'll want to ride in a CTM bus. CTM buses transport passengers between cities. These buses are very nice and comfortable and are a safe and reliable way to get around Morocco.
You can book your CTM bus tickets here.
If You Have 2 Weeks Instead of 10 Days:
If I was planning a 2 week (or longer!) itinerary instead of our 10 day Morocco itinerary, what would I add to the schedule? These are a few options:
1 more day in Fes (which would include a half day trip to the Roman ruins at Volubilis)
A full day in the Dades Gorge/Todra Gorge
A full day in Chefchaouen
Visit to Essaouira (2 nights)
I think 3 full days was the perfect amount of time for Marrakech and 2 nights was the right amount for the Sahara. I'm also content with the half day in Casablanca – honestly, even if I had a full two weeks in Morocco I probably would still just do the half day there.
Quick Summary of this Morocco Travel Itinerary
Day 1:
Arrive Casablanca
Visit Hassan II Mosque
Take the train to Marrakech
Day 2:
Marrakech: Saadian Tombs, El Badii Palace, Musée dar El Bacha
Day 3:
Marrakech: Bahia Palace, Jemma el-Fna, Souks, Local Experience (Cooking class, food tour, henna experience, souks shopping guide)
Day 4:
Marrakech: Medersa Ben Youssef, Jardin Majorelle, Jardin Secret, Hamman Spa
Day 5:
Day 6:
Dades Gorge
Arrive in the Sahara Desert – camel ride into the dunes
Day 7:
Sahara Desert: ride camels, watch the sunrise, go sandboarding, ATVing, or take a desert tour
Day 8:
Day 9:
Fes: Blue Gate, Madrasa Al-Attarine, Chouara Tanneries, Jnan Sbil Gardens, Madrasa Bou Ianania, Souks
Day 10:
Chefchaouen + Tangier Airport
Morocco Fast Facts
Currency: The Moroccan Dirham

11 dirhams = 1 US dollar (we found it easiest to round down to 10 dirham = 1 dollar to estimate prices).
Morocco has a closed currency, meaning you cannot buy or sell dirhams outside of Morocco. It's no problem though – ATMs are abundant and its easy to withdraw cash in the cities.
On that note, though, most places only take cash (including some restaurants, gas stations, and even a couple riads). So don't plan on using your credit card often.

Most Moroccans are Muslim. Friday is the Islamic holy day.
Morocco is a monarchy, and the king has palaces in many major cities around the country.
Moroccans speak Arabic. In the south, many also speak French, and in the north, many speak Spanish. The Berber people of the desert also speak their own Berber language. Many people in tourism-facing occupations speak English.
In Arabic, "Marhaba" means welcome and "Shukran" means thank you.
Tap water should be safe to drink, but we still ended up buying a lot of bottled water in Morocco – it is HOT and dry and it was a constant struggle to stay hydrated, so we frequently bought water as we were walking around. A 16 oz bottle was usually about 2 dirham (20 cents USD).
Travel Essentials for Any Morocco Itinerary
Here are some things we used, wore, and loved on our trip to Morocco:
Sandals: I've been looking for a great pair of comfy and cute sandals for long travel days and wow were these THE perfect pair. They had arch support, were cushy, and felt amazing straight out of the box.
Skirts: I wore long, flowy, skirts all over Morocco and truly loved them so much. They looked great in photos, and with the locals often wearing long dresses or skirts, I didn't feel out of place at all. This is the nude pink one and this is the red one.
Red Dress: A beautiful, breezy, striking red dress, which I loved wearing around Morocco. Heads up though – this one does get wrinkly in your suitcase.
Flowery Dress: I have this dress in a couple different patterns and it is a great summery option – it flows and breaths well. Highly recommend.
Sunscreen: I have very sensitive, acne-prone skin, and so I use this facial sunscreen designed to not cause breakouts. I love this one so much that I actually use it every day, whether I'm in the sun or not! It's lightweight and rubs into my skin smoothly.
Tripods: We brought two tripods with us: this bigger one and this small, compactible one. We used both tripods during our trip to get some shots of the two of us together. I recommend at least the smaller one for getting some night sky shots!
Earrings: A hot weather vacation calls for some fun earrings. I love this set of tassel rattan earrings and this pair of circle rattan earrings.
Travel Adaptors: Morocco uses type C and E electric plugs, so if you're coming from the US you'll need travel adapters to charge your devices. This set is inexpensive and comes in a set of three.
Packing cubes: These packing cubes have been so. dang. useful. These help keep your clothes and personal items grouped, sorted, and organized. I can actually find things without digging through my entire suitcase now!
What Month is the Best to Visit Morocco?
Spring and fall have the best weather, though it can still be quite warm. We visited in October and still had 90 F days in Marrakech, but summer regularly gets over 100 degrees F.
Winter can be a really lovely time to visit, as highs in Marrakech are in the upper 60's and 70's F. Just note that, as Morocco is the desert, lows in the winter can be quite chilly – dropping into the low 40's.
The northern section of Morocco, and the mountainous regions, of course have slightly cooler weather. For example, highs in Chefchaouen in January are only in the mid-50's.
Generally, I would recommend visiting March-May or October-November for the best weather. This is also the highest season for tourists, as the extreme highs in summer and colder winter months are understandably more off-putting to visitors. Still, this is the time of year that I would recommend visiting the most.
Is Morocco Cheap to Visit?
Morocco is definitely a cheap country compared to western European or US standards, but it is definitely not the cheapest country ever.
You can find nice riads to stay at for $50/night. Taxis within the city are usually $1-3. You can enjoy a great meal, including (non-alcoholic drinks) for $10/person. Entrance fees are usually between $6-7.
You can read a very detailed budget breakdown for our Morocco trip here
Tip: Cash is king in Morocco. Plan to pay for most things (including possibly some of your riads) with cash.
Another tip: Haggling is essential in Morocco! Don't haggle at restaurants, but for guides, taxis, and at shops, definitely plan to haggle. A good rule of thumb is to aim for your ending price to be approximately 1/2 of their initial opening offer.
Is 10 Days in Morocco Enough?
I mean, you could spend months in Morocco! However, you can absolutely have a great trip, get a really good feel for the country, and really have a great time with Morocco in 10 days.
Don't Forget Travel Insurance
Securing some travel insurance is an important part of prepping for any international trip – you never know when something might happen, and your regular insurance generally won't cover you overseas. Costs for a medical emergency on vacation can add up extremely fast, so it's just better to be safe than sorry.
I like booking insurance at Insure My Trip, as they offer a variety of plans with different coverages to choose from, so you can find the right option for you. Plus, they have great customer support if you need help before, during, or after your trip.
Check rates at Insure My Trip here!
Final Thoughts on our 10 Day Morocco Itinerary
Our visit to Morocco was really like living in a dream – so different was the culture, food, language, architecture, landscapes, and customs than what we were used to back home.The people were so kind, and Morocco absolutely captured our heart. We loved our 10 days traveling around Morocco!
We hope you find this 10 day Morocco itinerary helpful – following it will take you to so many different and beautiful places in Morocco. The variety was amazing and we loved having so many unique experiences in this beautiful African country.
Read Our Other Morocco Articles:
Pin for later!